China takes 10% of global rail exports
2015-02-06 16:52:00
Summary:China s railway equipment exports accounted for 10 percent of global market share in 2014, saidWang Xiaotao, vice minister of the National Development and Reform Commission, on Friday Total exports of railway equipment hit $4 billion in 2014 and major markets include Asia, SouthAfrica and Latin America, said Wang at a press conference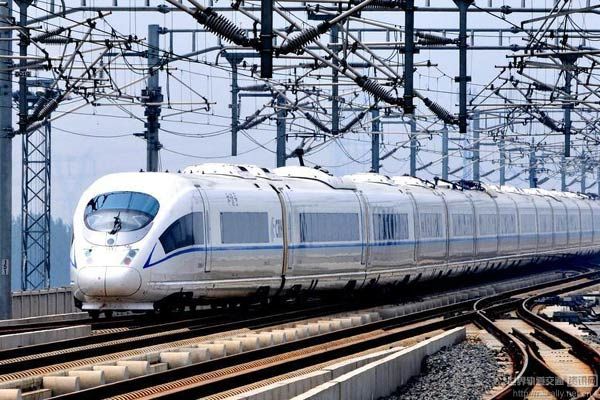 A CRH train that runs on the Beijing-Shanghai High-Speed Railway leaves Tianjin South Railway Stationin North China's Tianjin, June 30, 2012. [Photo/Xinhua]
China's railway equipment exports accounted for 10 percent of global market share in 2014, saidWang Xiaotao, vice minister of the National Development and Reform Commission, on Friday.
Total exports of railway equipment hit $4 billion in 2014 and major markets include Asia, SouthAfrica and Latin America, said Wang at a press conference.
"There is a global enthusiasm for infrastructure projects, particularly railway building, both indeveloped and developing countries, providing a good opportunity for China's railway firms to goglobal," added Wang.
He said Chinese manufactures have built up substantial capability in providing one-stop solutionand have obvious cost advantage.
Costs of Chinese firms are at around "two thirds" of their global peers, said Wang.
Analysts said the combination of CSR Corp Ltd and CNR Corp Ltd will further strengthencompetition of Chinese firms.
However, both companies have yet to win rolling stock contracts in the European market sincethe region has mature manufacturers and stringent requirements for market entry, according to arecent Moody's report.
Asian players such as Japan-based Hitachi Ltd's Hitachi Rail and South Korea-based HyundaiMotor Co's Hyundai Rotem have been able to gain a slice of the market, according to analysts.
Exports of China's equipment manufacturing industry stood at 2.1 trillion yuan in 2014,accounting for 17 percent of China's total exports in the same year, said Wang.
Equipment exports in industries such as electricity, telecommunications, petrochemical andaviation showed a momentum of rapid growth.
Realted story: China's railway equipment export surges, by Xinhua
BEIJING - China saw a surge in export of railway equipment as industry leaders actively exploreoverseas markets, official data showed Wednesday.
China exported 26.77 billion yuan ($4.36 billion) worth of railway equipment last year, surging22.6 percent year on year, according to data from the General Administration of Customs (GAC).
In December alone, the export value came in at 2.81 billion yuan, a surge of 42.3 percent fromthe same period a year earlier.
GAC spokesman Zhang Guangzhi attributed the rapid growth to China's manufacturingcompetitiveness in the sector as well as domestic firms' efforts to tap the global market.
So far, China has exported its railway technology to more than 30 countries and regions,including ASEAN countries, Argentina, Australia and the United states.
The overseas march was mainly led by state-owned firms, with their exports accounting foraround 70 percent of the total value, according to the GAC data.
Although a latecomer to the field, Chinese railway equipment companies have thrived due to costadvantage and shorter delivery time.
According to German transportation consultant firm, SCI Verkehr, China North Railway andChina South Railway, two industry leaders, currently hold the lion's share of the world's HSRmarket, with their sales revenue equal to the other five top companies combined.
CRCC seeks compensation for Mexico high-speed project by chinadaily.com.cn
China Railway Construction Corp Ltd (CRCC) said on Tuesday that Mexico high-speed project's"indefinite suspension" would not impact its overseas operation, adding that the company isnegotiating with the government of Mexico on the project's compensation.
The government of Mexico cut its 2015 budget by nearly 3 percent last Friday after a drop inglobal oil prices hurt public finances, and decided to shelve a project to build the rail link betweenMexico City and the central city of Queretaro.
CRCC shares fell 6.42 percent and 9.91 percent respectively on Jan 30 and Feb 2.
CRCC said the Mexico high-speed project's shelving is an individual case and wouldn't have aneffect on its overseas operations, according to an official announcement. The company isnegotiating with the Mexico government on the project's compensation.
The Chinese-led consortium, formed by CRCC, CSR and four other Mexican construction firms,won the bid last November to build a 210-km high-speed railway connecting Mexico City with theindustrial hub of Queretaro to the north. However, the contract was revoked days later out ofdomestic issues.