High-speed trains steer to overseas destinations
2015-02-12 15:49:59
Summary:Chinese high-speed train companies are eyeing more contracts in overseas markets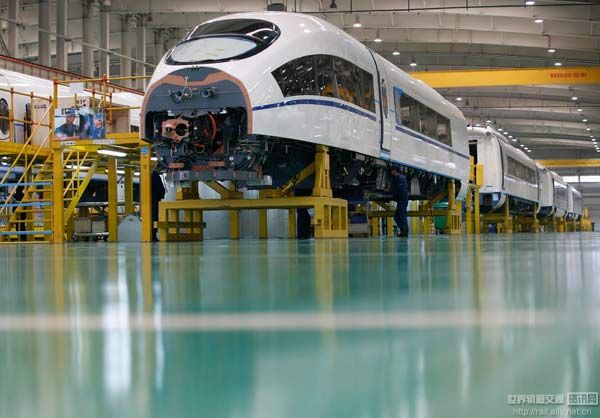 An employee works on a high-speed train model CRH380B at a final assembly line of China CNR's Tangshan railway vehicle factory in Tangshan, Hebei province, on Wednesday. KIMKYUNGHOON / REUTERS
Chinese high-speed train companies are eyeing more contracts in overseas markets.
"The US will be the next strategic focus for us, after successfully winning the Boston contract," Yu Weiping, vice-president of China CNR Corp, told China Daily on Wednesday.
CNR won a 4.12 billion yuan ($659 million) contract last year to supply metro cars to Boston's subway system, the first US rolling stock order with a Chinese company.
"At least part of the metro cars will be assembled locally," said Yu, who is in charge of the company's overseas business. The company is exploring more opportunities in cities such as New York and Washington.
CNR also won a contract last year to supply 232 diesel locomotives to South Africa. Yu said the company will establish local manufacturing companies and create jobs for local employees.
Li Wen, deputy general manager of the corporate business department at the Export-Import Bank of China, said on Wednesday that the bank is involved in promoting a group of important railway projects, including a high-speed train project in California. Li said at the end of January that the bank had provided $13 billion in loans to 35 overseas railway equipment export and rail construction projects.
CNR and CSR, China's major high-speed train manufacturer, have announced a plan to merge to become the world's largest train manufacturer. Shareholders will vote on the move on March 9.
A worker on a production line assembles parts at China CNR's Tangshan factory on Wednesday. KIMKYUNGHOON/ REUTERS
They have established a working group to study future strategy and deal with issues such as overseas anti-trust scrutiny, Yu said.
"A successful merger of China's top two train manufacturers will avoid inner competition and forma combined competitive edge," he said.
CNR's exports increased 68.6 percent year-on-year to $3 billion last year.
"China was in talks with 28 countries, including the United States, Russia, Brazil and Thailand on high-speed projects," he said.
China Railway Corp spokesman Han Jiangping said China and Russia have established a working group to promote a project linking Moscow and Kashgar.
Han also confirmed that China Railway Corp established an international limited company in December.
"The purpose of forming this company is to try to build a platform that can promote communication with international railway peers," he said.
China's railway equipment exports accounted for 10 percent of the global market last year, Wang Xiaotao, vice-minister of the National Development and Reform Commission, said last week.
China Railway Group, one of the nation's largest infrastructure construction contractors, said on Wednesday that it will raise as much as 12 billion yuan through private placement of A shares to fund five projects, Bloomberg reported.
The issuance will consolidate the company's financial foundation, providing rich financial resources to develop our business and investment, Chairman Li Changjin said in a news release.