Our trains in Singapore are safe
2016-08-19 16:58:49
Summary:Qingdao-based CRRC Sifang Co Ltd, a subsidiary of the country s largest trainmaker China Railway Rolling Stock Corp, said on Wednesday that it had recalled defective metro trains used in Singapore, and the first batch of repaired trains have been back in service running nearly 300,000 kilometers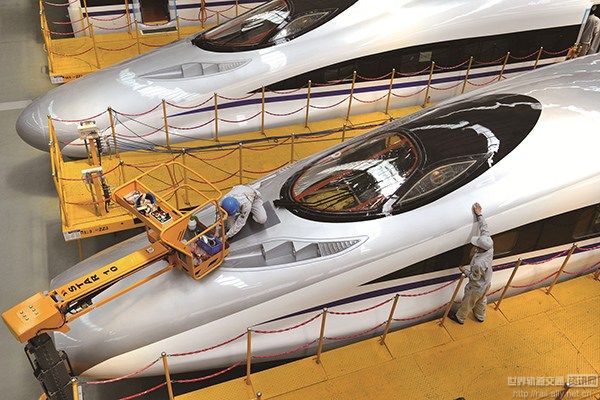 A CRH train production site of CRRC's Qingdao Sifang Co Ltd in Qingdao, Shandong province. (Photo/Xinhua)
Qingdao-based firm recalled cars from Singapore, says it found no risk to safety
Qingdao-based CRRC Sifang Co Ltd, a subsidiary of the country's largest trainmaker China Railway Rolling Stock Corp, said on Wednesday that it had recalled defective metro trains used in Singapore, and the first batch of repaired trains have been back in service running nearly 300,000 kilometers.
The company's comments came after foreign media reported that several metro trains, jointly designed and manufactured by Japan's Kawasaki Heavy Industries Ltd and CRRC Sifang, are being shipped back from Singapore to their manufacturer due to issues including cracks in structural components and an insufficient battery system.
"CRRC Sifang found some defects in car bodies during routine maintenance checks in Singapore in June 2013. It then recalled 26 of them to the factory for repairs. The problem was caused by a defective aluminum alloy. After thorough analysis, the problem was found not to pose a risk to safety," the company said in a statement.
The Japanese-Chinese joint venture gained its first contract from Singapore's Land Transport Authority to provide 22 six-car trains for the North-South and East-West lines in the country in 2009 for $368 million.
SMRT Corp Ltd, the multimodal public transport operator in Singapore, ordered another 13 train sets from Kawasaki and CRRC Sifang to improve its metro rail service in 2012.
"Aged rail infrastructure, inappropriate maintenance work and various weather conditions could all cause certain damage to the metro trains," said Feng Hao, a rail transportation researcher at the National Development and Reform Commission.
Under such circumstances, Feng said it is the time for Chinese companies to accelerate the pace of promoting their railway standards abroad and foreign clients should also consider letting them carry out full-package services from supplying trains to installing tracks.
China Railway Corp Group, the country's railway service provider, said on Wednesday that exports of China's railway equipment and railway construction projects are proceeding well, and breakthroughs are being made in many overseas projects.
Yang Zhongmin, CRC's deputy chief engineer, said China's railway equipment and infrastructure service businesses have entered markets in Asia, Europe, North America and Africa.
Chinese companies have also made breakthroughs in the China-Laos railway, the Jakarta-Bandung high-speed railway in Indonesia and the high-speed rail project in Russia connecting Moscow to Kazan.
"The Chinese and Thai governments also reached a consensus in building the China-Thailand railway and will try to start the construction work by the end of this year," said Yang, who is also chairman of China Railway International Group, a CRC subsidiary.