Bangladesh rail project 'raises risks' for Chinese firm
2016-08-19 16:50:01
Summary:It may be difficult for China Railway Group (CREC), one of the nation s largest State-owned enterprises, to make any profits from a railway deal signed with the Bangladeshi government, analysts said on Tuesday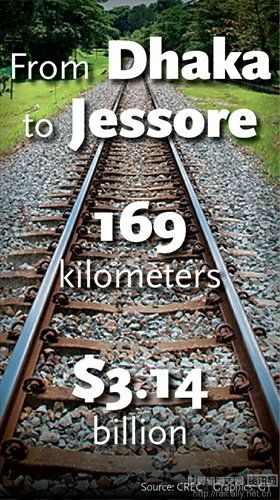 Graphics: GT
Payback period can be 50 years, so profit may be elusive
It may be difficult for China Railway Group (CREC), one of the nation's largest State-owned enterprises, to make any profits from a railway deal signed with the Bangladeshi government, analysts said on Tuesday.
On Monday, CREC signed a -contract worth about $3.14 billion with the Bangladesh Railway to build a railway via Bangladesh's Padma Bridge, according to a filing by CREC to the Hong Kong Stock Exchange on Tuesday.
The CREC will build a 169-kilometer rail link from the capital Dhaka to Jessore district. The project will create railway connectivity between Dhaka and southwestern parts of the country, said the filing.
Sun Shihai, director of the Chinese Association for South Asian Studies, told the Global Times on Tuesday that the project will do much to benefit Bangladesh, where the transportation infrastructure is very backward.
"For a country like Bangladesh, the government is short of capital, and private investors are unwilling to invest in projects with long investment cycles, such as those in the infrastructure sector," Sun noted.
"Therefore, Bangladesh has to rely on other countries or international financial institutions to help invest in the sector," said Sun.
Much of the -Padma project's funding will come from Chinese government loans, with just a small amount coming from the funds of the Bangladeshi government, newsbangladesh.com reported on Monday.
Zhao Jian, a professor at Beijing Jiaotong University, said the investment could be risky. Sometimes it can take up to 50 years for a rail project to pay off, and a lot of railway projects end up losing money.
"For a country like Bangladesh, whose economy is sluggish, does it have enough transportation needs to bring a profit to the railway project? I doubt it," Zhao noted, adding there are political risks as well.
However, Sun said that there won't be many problems for the CREC to recover the investment costs, as government-to-government projects are usually safe with risk assessment and compensation provisions.
The Padma project also includes the construction of many related facilities including bridges and railway stations, along with the purchase of 100 passenger coaches, the Xinhua News Agency reported on Monday.
The CREC will complete construction of the rail link by around June 2022, according to the newsbangladesh.com report.
The Bangladeshi government signed a $1.55 billion contract with China Railway Major Bridge Engineering Group Co to build the core structure of the Padma Bridge project in June 2014, according to the -Xinhua report.
Some experts have noted that cheap financing from China is irresistible for Bangladesh, but the increasing bilateral economic interaction may exert pressure on India, which usually is on close terms with Bangladesh.
"I would say China is somewhat in a competitive position with India for seizing the market of Bangladesh, but the level of competition is tolerable for both countries," Sun noted.
In July 2011, the CREC signed a contract with Bangladesh Railway to upgrade one of Bangladesh's single-line tracks to double lines. The updated railway officially went into operation in February, according to domestic media.
Apart from Bangladesh, China has also cooperated with a number of other regional countries, including Indonesia and Pakistan, on railway projects.
According to Zhao, selling railway equipment is safer than building rail links for an overseas economy.
Sun urged the Chinese government to pay more attention to the sustainability of those projects and avoid irrational investment.