Subway riders in Boston to embrace 'Made in China' trains
2017-10-26 12:57:22
Summary:Chinese subway trains tailored for use on a line in the city of Boston, Massachusetts, US are expected to be delivered in December, the sign of a bright future for "Made-in-China" trains in the picky US market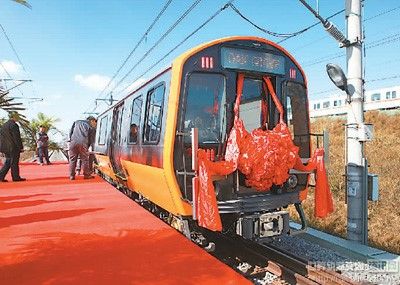 Chinese subway trains tailored for use on a line in the city of Boston, Massachusetts, US are expected to be delivered in December, the sign of a bright future for "Made-in-China" trains in the picky US market.
The cars rolled off the CRRC Changchun Railway Vehicles Co. Ltd production line on Monday as the first of their kind tailored to US standards.
Boston has the US' oldest subway system, with a history going back to 1897.
This shipment is part of a 284-carriage order signed in 2014, which calls for the manufacturer to provide trains for the city's orange and red lines. It is also the first time that a Chinese train manufacturer entering the US market.
With a service life of 30 years, the cars use a stainless steel body and are able to run at a speed of 63 miles per hour.
These cars had to meet US standards in vehicle strength, controls, and quality and were built with a top-down design. This is the first time that a Chinese company is exporting its subway trains to the United States with complete Chinese intellectual property,said Yu Qingsong, deputy chief engineer of CRRC Changchun. The passenger area can withstand a collision at a speed of 40 kilometers per hour, guaranteeing passenger safety on the two 6-carriage trains , he added.
The Chinese firm has implemented more than 120 standards required by different US government branches and civil associations, including the US Environmental Protection Agency, Americans with Disabilities Act and the Public Transportation Safety Act of Massachusetts.
Entry into the US rail transit market, a recognized high-end one, requires extremely high levels of technology and localization. The deal is regarded as evidence of the quality and brand name of Chinese products.
China light-rail vehicles are gaining greater recognition from clients in both developing areas and developed countries such as the US and Australia.
One key stage for the internationalization process of the CRRC is to carry out localization strategies in host countries, said Jia Bo, vice-president of CRRC MA Corp, who added that he believed that Chinese products will definitely have a brighter future.