From foreign land to Chinese dream: Chengdu-Europe train opens new tracks for Polish man
2017-11-27 14:48:15
Summary:With Chengdu as its station of origin and Lodz its terminal, the Chengdu-Europe Express Railway helps to build business links between the two cities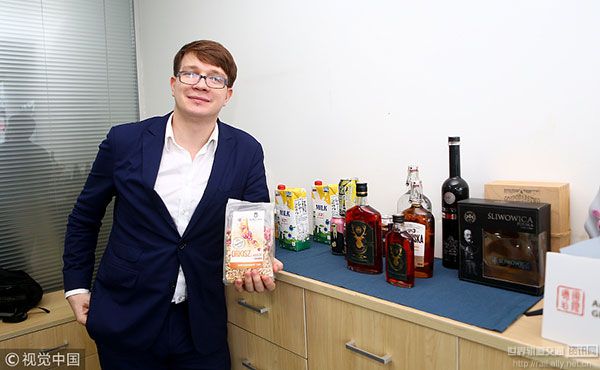 With Chengdu as its station of origin and Lodz its terminal, the Chengdu-Europe Express Railway helps to build business links between the two cities. It also connects a Polish man's heart to Chengdu.
The 29-year-old Maciej Czastka comes from Lodz, Poland. He has been in Chengdu for four years since he finished his degree in East Asia relations at the University of Lodz.
"I was always hoping to visit China after graduation for the sake of my major. I knew at that time that a cross-continental cargo train would leave from Lodz so I wanted to visit its other end." said Maciej.
After graduation, he applied to Sichuan University for language study. He now works for Amber Global Consulting, a company that provide services to Polish manufacturers and merchants to help them enter the Chinese market.
During his four-year life in Chengdu, Maciej witnessed the opening of the Chengdu-Europe Express Railway, the friendly city relations established between Chengdu and Lodz, the debut of the Polish consulate general in Chengdu, and the thriving business between the two cities.
"We used to have little contact with China, and Poland itself lacks experience with exports. Now Chengdu is a well-known city in Poland and a growing number of enterprises in both countries can have direct bilateral trade with each other thanks to the Chengdu-Europe Express Railway." said Maciej.
"The express is vital to the communication and cooperation between Poland and Chengdu. Both cities are now in their golden age of development," he added.
In his free time, Maciej learns Italian from a language school in Chengdu, where he met a beautiful young local woman. "It turned out that I failed to manage Italian but accidentally met love." Maciej is now planning to live and work in Chengdu indefinitely. "Settle down in Chengdu? I would say yes. I really like this city."
"For quite a long time we Polish could not overcome the geographic inconvenience of being in the middle of Germany and Russia. The Belt and Road changed that, turning our disadvantage into an advantage. "
Now the Chengdu-Europe Express Railway has been operating for four years, supporting its two ends, Chengdu and Lodz, to extend their trade and business further. As the doorway to Europe, Poland is seizing opportunities brought by the Belt and Road and engaging in the globalization of economy and trade.
"Lodz and Chengdu, my two homes." That's what Maciej often mentions in his WeChat moments.