Haidong to be further connected with new cross-sea bridge
2017-12-08 10:11:58
Summary:When the Tiaoshun Cross-sea Bridge comes into operation by 2019, it will both ease Zhanjiang s traffic pressure during peak times and strengthen the links between different areas of the city Construction of the bridge is well under way
When the Tiaoshun Cross-sea Bridge comes into operation by 2019, it will both ease Zhanjiang's traffic pressure during peak times and strengthen the links between different areas of the city. Construction of the bridge is well under way.
It is one of the earliest projects operated under the innovative Private-Public-Partnership (PPP) model with a long-term contract signed by the Zhanjiang Highway Bureau, China Railway Major Bridge Engineering Group and Zhanjiang Communication Co Ltd.
Located to the north of the city's downtown, the 9.3-km bridge will pass over Zhanjiang Bay to connect Tiaoshun Island with Haidong New District. Its dual six-lane design allows a speed limit of 80 kilometers per hour. The whole project is estimated to take 30 months.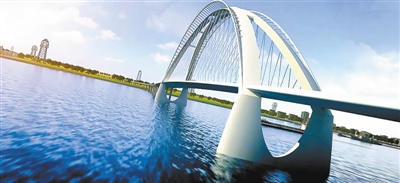 In recent years, more and more enterprises have settled in the burgeoning Haidong New District. Five major projects valued at more than 2.85 billion yuan ($431 million) began construction on Nov 11 alone. The resulting increase in traffic flow overwhelmed the Haiwan Bridge, the only urban east-west channel.
To break the traffic bottleneck, Tiaoshun Cross-sea Bridge will form part of the fast road system connecting the Haidong New District with Chikan district, Poshou district and Suixi county. Upon completion, it will not only improve travel efficiency but propel regional economic development.