Nigeria encouraged to 'seize the moment' at FOCAC
2018-08-31 16:40:59
Summary:Expert says African nation should now take the opportunity to fully engage with Belt and RoadWith the 18th anniv
Expert says African nation should now take the opportunity to fully engage with Belt and Road
With the 18th anniversary of the Forum on China-Africa Cooperation at hand, Nigeria is being encouraged to take full advantage of next week's FOCAC summit in Beijing.
Charles Onunaiju, the director of the Centre for China Studies in Abuja, Nigeria, says: "It is up to Nigeria to engage more forcefully not only using the FOCAC summit, but the Belt and Road, which is at a more advanced stage between China and Africa. It's up to Nigeria to seize the moment.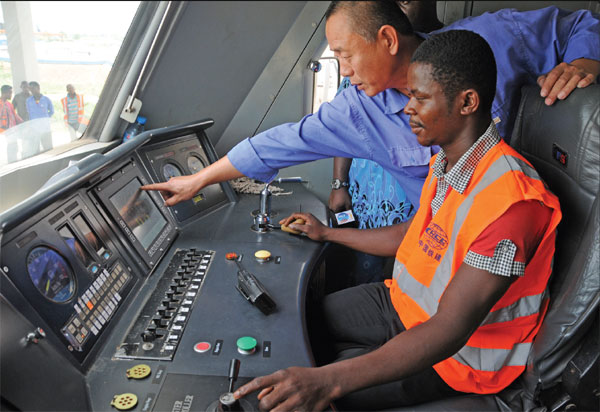 A Chinese driver teaches his local student how to drive a train at a railway station in Abuja, Nigeria.
"Nigeria has a privileged position in China relations, because in 2010, China proclaimed it a strategic partner," Onunaiju says.
Nigerian President Muhammadu Buhari is expected to address the opening ceremony at the FOCAC business summit. He will give an address alongside four heads of state from subregions of Africa.
Buhari and his wife, Aisha, are also expected to join President Xi Jinping and his wife, Peng Liyuan, at the gala hosted by Xi after the meetings.
Onunaiju says the BRI offers infrastructure and connectivity, and therefore Nigeria should fully engage in the project, among others, to capitalize on available funds offered by the Asian Infrastructure Investment Bank for development.
In terms of what Nigeria can bring to the table, Onunaiju notes that a number of Chinese companies are relocating to Africa, and Nigeria, given its market size, is a natural destination. However, Nigeria needs to resolve domestic issues, he adds, and it needs to provide policy incentives and an enabling environment.
Hassan Gimba Ahmed, the CEO and editor-in-chief of Neptune Prime, a Nigeria-based online newspaper, says it is necessary for Nigeria to play a crucial role at the upcoming FOCAC summit.
"China has always been a country that is self-reliant and depends on itself and what it can produce. Because China wants other countries to be self-dependent, this is why they give aid to other nations, most especially African nations."
He says that while aid from the Western world comes with a lot of conditions, China's policy on giving aid is to free a nation and make it self-reliant.
Gimba Ahmed says Nigeria should attract Chinese investors by focusing on stability in all sectors, such as economy, politics, tax rebate, labor and infrastructure.
Ahmed Adamu, the former chairman of the Commonwealth Youth Council, says he is delighted that Nigeria will participate in the summit. "The FOCAC summit this year in Beijing will be another opportunity for Nigeria to participate and to strengthen it relationship with China and other African nations.
"China provides the opportunity through this summit for African countries who are members of this forum to also collaborate, meet with each other, discuss common issues and try to achieve common consensus," he says.
Adamu also says Nigeria, through its relations with China, can leverage on the free trade and open market that China is promoting to boost its manufacturing and industrial sectors.
He adds that the comparative advantages of each country should be identified at the summit. "For Nigeria, it is agriculture that can be mechanized in a modern way. This is a platform that is strategic for economic development."
African nations should focus on building an enabling environment for more industrial activities in order to be independent in terms of production, Adamu says.
China's support has brought benefits to Nigeria including the currency swap between both countries, he says, adding that Nigeria should be serious about implementing whatever outcome FOCAC brings.
He said Nigeria should be open to friendship during the summit in order to achieve economic development and trade cooperation with China and other African nations.
Chinese Ambassador to Nigeria Zhou Pingjian, in remarks during the Forum on China-Nigeria Production Capacity and Investment Cooperation held in Abuja recently, said China remains committed to enhancing its cooperation with Nigeria in such sectors as agriculture, manufacturing, industrial capacity and investment, infrastructure, energy, culture and people-to-people exchanges.
"It is believed that under the joint efforts of China and Africa, the FOCAC Beijing Summit will surely become another historic event to strengthen China-Africa solidarity and cooperation," he said.
Zhou also said the past 18 years have seen remarkable progress in China-Africa cooperation, and the 2015 FOCAC summit in Johannesburg has produced fruitful results.
"In Nigeria, the Abuja-Kaduna railway, Africa's first modern railway with Chinese technology and standards, was commissioned in July 2016. The Abuja rail mass transit project, the first urban railway in West Africa, was commissioned in July 2018. The Lagos-Ibadan railway broke ground in March 2017. The construction of the Lekki deep-water port, the largest port in West Africa, and the Zungeru hydropower station, the largest hydropower station in Nigeria, are well underway," he said.
"It is our firm belief that President Buhari's attendance at the upcoming FOCAC Beijing Summit will make an important contribution to China-Africa cooperation and bring about new opportunities to grow China-Nigeria ties," he added.
Regarding suggestions that Nigeria could someday co-chair FOCAC, given its size, strength and resources, Onunaiju says: "Naturally, it should fall to Nigeria because West Africa is the only region in Africa that has not hosted FOCAC, and no country in West Africa has co-chaired FOCAC. Southern Africa has held the position under the auspices of South Africa, East Africa has held it under the auspices of Ethiopia, and North Africa has held it under the auspices of Egypt. The only region in Africa that is left to co-host FOCAC is West Africa, and naturally Nigeria fits the bill."
In May 2015, President Xi and President Buhari, on the sidelines of the summit marking the 70th anniversary of the United Nations in New York and at the FOCAC Johannesburg Summit, spoke about deepening cooperation between the two countries.
Buhari, in his keynote speech during the commissioning of the first phase of the Abuja rail project, said: "Let me place on record the Nigerian government's appreciation to the government of China and the Exim Bank of China for their support on this and many other projects currently being executed in the country. This gesture further cements the already existing cordial relations and developmental partnership between Nigeria and the People's Republic of China."