Nationwide street rallies in France pose test to Macron's proposed reforms
2018-03-26 13:26:48
Summary:Angry civil servants, railway workers, airline controllers and pensioners took to the streets in French cities to protest French President Emmanuel Macron s proposed package of reforms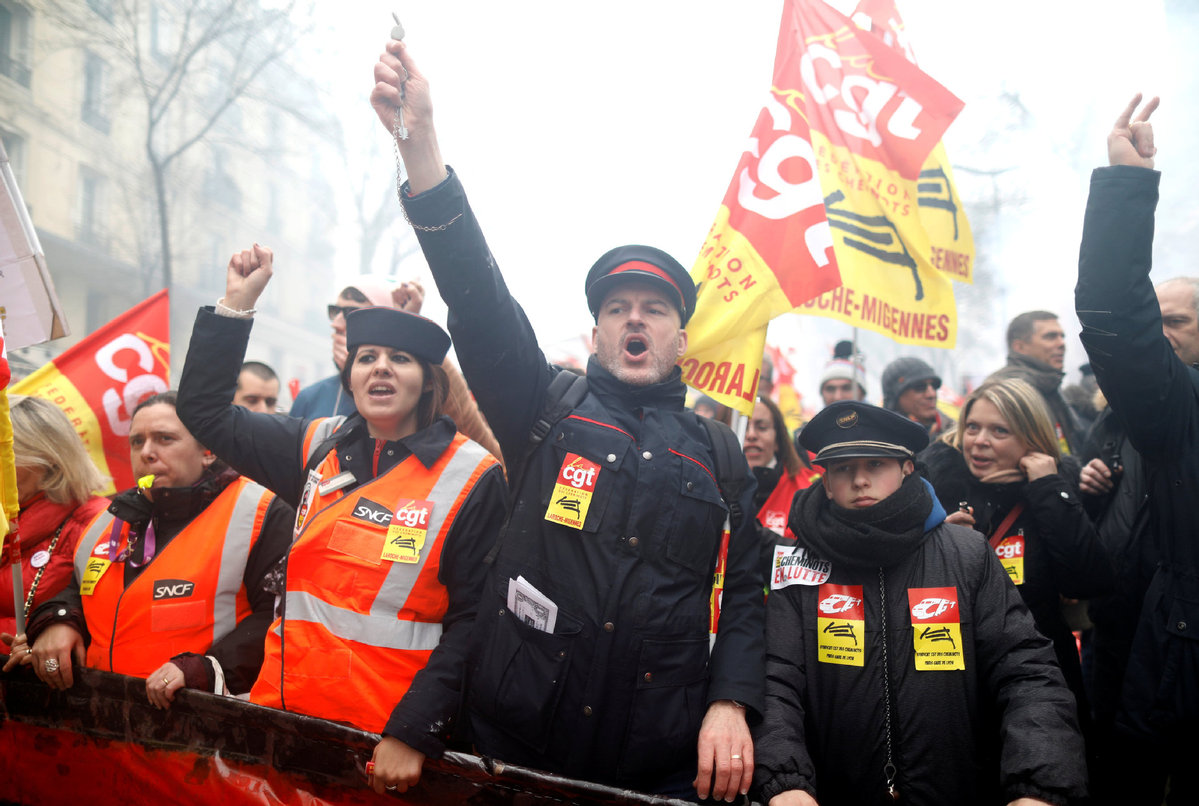 Railway workers and protestors attend a demonstration during a national day of strike against reforms in Paris, France, March 22, 2018. REUTERS/Charles Platiau
PARIS - Angry civil servants, railway workers, airline controllers and pensioners took to the streets in French cities to protest French President Emmanuel Macron's proposed package of reforms.
In the so-called "black Thursday," trade unions planned 140 demonstrations bringing together public services workers and train drivers, testing Macron's pro-liberal bent for eurozone's second largest economy.
Laurent Berger, head of France's largest union CFDT, warned Thursday's nationwide action was "a form of alert to the government."
"Either they (the government) listen to us; and this will have been a warning shot. Or they don't listen to us and then -- let me tell you that public sector workers are very mobilized," he said on earlier Thursday.
He also called on the government to accelerate dialogue on the reform of public services such as state-run railway operator SNCF.
Public services workers, including teachers and healthcare staff, decided to walk out in French cities to express their anger over the government's plan to reduce their number by 120,000 within five years and expand the use of short-term contracts.
The strike was reinforced by train service stoppages and cancellation of flights at France's main airports.
Half of regional trains would run on Thursday with four out of ten high-speed TGV operational, according French Transport Minister Elisabeth Borne.
The DGAC air transport authority said it would reduce by 30 percent its flight services from and to Orly, Charles-de-Gaulles and Beauvais airports due to national strike action. It added that long-haul flights would not be impacted.
Trade unions called rail workers to stage rolling strikes by stopping work two out of every five days over a three-month period from April 3.
They are protesting a government plan to revamp the state-run rail operator SNCF that includes ending special rail workers' special status, allowing them to retire with a full pension at 52, a decade before other French employees.
Many previous governments failed in reforming the public rail system.
Defying mounting public anger that drove down his approval ratings, Macron, 40, stood firm to press through with disputed reforms, stressing that his "determination will not weaken in the next months or years."
"We will continue in France to reform in depth as we are certain that our country needs these profound changes to overcome an inexplicable accumulated gap recent years, put an end to a mass unemployment ... and end habits that have no longer any justification," he said.