Traffic chaos expected in France as rail workers kicked off three-month long strike
2018-04-08 09:58:16
Summary:PARIS - France is expected to see traffic chaos in the coming months, as a nationwide rail strikes started on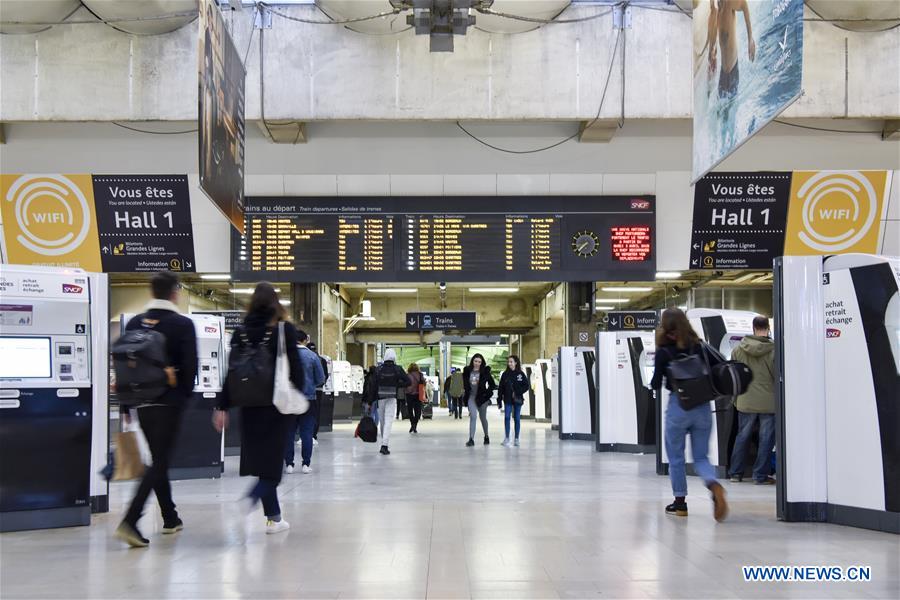 PARIS - France is expected to see traffic chaos in the coming months, as a nationwide rail strikes started on Tuesday demanding a reconsideration of President Emmanuel Macron's reform plan on the railway sector.
According to media reports, half of the unions' staff are set to join the call to stage strike in two out of every five days over a three-month period in a protest to the government plan to revamp the state-run rail operator SNCF.
On "black Tuesday," only one in eight high-speed trains is operational and one regional train out of five is expected to run.
In Ile-de-France region, half of scheduled inter-city links would be affected by the unions' action, triggering problems for millions of train passengers .
"The participation rate in this movement is very, very important, which shows that the form of struggle corresponds to what railway workers are awaited for," Philippe Martinez, head of CGT union told France Inter radio.
"It depends on the government, we want to discuss. The rail workers do not strike for pleasure but have been forced to get there," he added.
Noting "an alarming situation" of the rail sector, the government pledged "a new strategic corporate project" to improve SNCF performance after it had been struggling under debts of 46.6 billion euros ($57.37 billion), mainly due to generous pension system.
It also targets to open domestic rail passenger services to create dynamism in the sector in addition to new rules of recruitment for "a more efficient and unified" rail operator.
With the aim, the government proposed to scrap the special rail worker status, that allows workers to retire on full pension at 52, a decade earlier other French employees.
Speaking to BFMTV news channel, Transport Minister Elisabeth Borne regretted unions' "blocking posture", saying "We are halfway to the consultation... I announced significant progress on (SNCF) opening to competition, the unions do not move."
With no sign of an end to the standoff, the ministery stressed "the government will hold well in listening, in consultation and dialogue."
Reform attempts on the public rail system had been failed during the previous governments.
In 1995, a right-wing government led by Alain Juppe planned to end preferential working terms of rail workers, a move that triggered three-week strike and forced Juppe to step down.
The country's largest movement since 1968 forced then president Jacques Chirac to abandon the reform and dissolve the National Assembly.
While a chaos is to occur on land traffic, a disruption is expected in the air.
Organized separately, French flag carrier Air France staged strike on Tuesday over payments. The action is expected to disrupt 30 percent of the carrier's long-haul flights out of Paris's main Charles de Gaulle airport.
About 67 percent of the carrier's medium-haul flights and 85 percent of short-haul ones will operate during the strike, according to the Air France.
An ifop survey released on Sunday showed that 53 percent of respondents considered the rail strike was unjustified.
The strike, starting officially on Monday evening, is set to be a major test of President Macron's ability to push through reforms under pressure, especially when he needs public support to reshape the eurozone's second main power.