China-Pakistan Economic Corridor helps boost Pakistan's economy: PM
2018-05-30 12:47:13
Summary:FAISALABAD, Pakistan - Pakistani Prime Minister Shahid Khaqan Abbasi said the China-Pakistan Economic Corridor (CPEC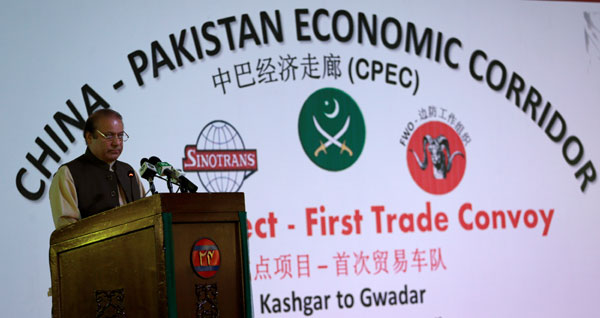 FAISALABAD, Pakistan - Pakistani Prime Minister Shahid Khaqan Abbasi said the China-Pakistan Economic Corridor (CPEC) and cooperation from China helped Pakistan emerge as a rising economy in the world.
The prime minister said on Monday that projects under CPEC, including road infrastructure, energy projects and Gwadar port would accelerate economic development and would further open Pakistan to China, Central Asia and other parts of the world.
"The government has laid the basis for national development, and the country is no more concerned about load shedding or terrorism rather it is now on its journey of development," said Abbasi.
The prime minister was addressing an inauguration ceremony of Sharqpur-Rajana Section of Lahore-Abdul Hakeem Motorway, or M-3, in Rajana Town near the textile city of Faisalabad in eastern Punjab province.
The 138-km Sharqpur-Rajana Section is a vital part of the 230-km M-3, which is funded by the Pakistani government and built by China Railway 20th Bureau Group.
The superhighway will connect the country's business hub and the second most populated city Lahore with the Motorway-4, the main artery connecting the southern port city of Karachi with the northwestern Peshawar.
The prime minister said the motorway would unleash an unprecedented development in the area and will bring great and long-lasting benefits to the people.
The motorway will have a positive social impact and promote economic development of Pakistan by stimulating the economic activities in the entire area along its alignment, said Abbasi, adding that the motorway will connect major cities and will ensure efficient and safe transportation of passengers and goods to and from big industrial and economic hubs of the country.
The motorway is expected to reduce the traffic congestion drastically, particularly the heavy traffic on other roads and will attract maximum passenger and cargo movements, the National Highway Authority of the country said on Monday.