Fast forward button pressed on railroad technology
2018-08-13 09:01:37
Summary:Hyperloop system aims to reach speeds of up to 1,500 km hIt takes several hours to travel by car from Hollywood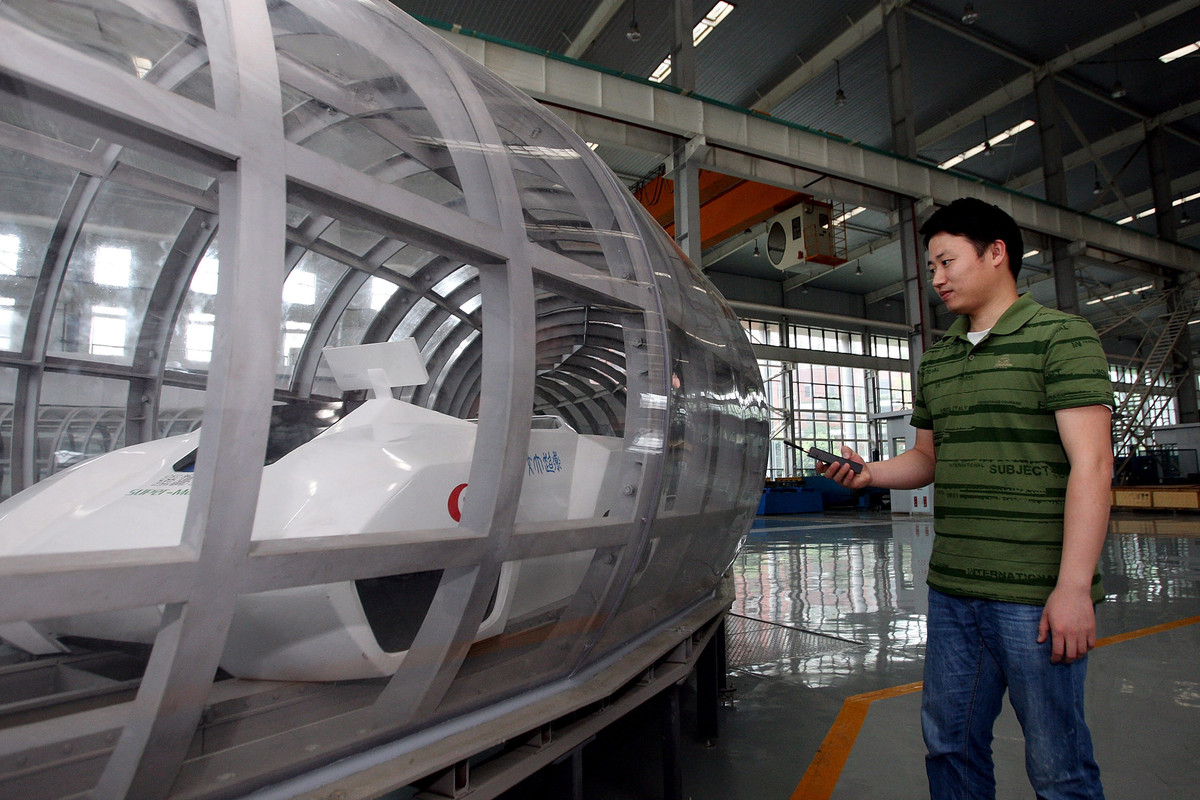 Hyperloop system aims to reach speeds of up to 1,500 km/h
It takes several hours to travel by car from Hollywood to the Napa Valley in Northern California, considered one of the world's premier wine regions.
But if the dream of business magnate and Tesla CEO Elon Musk is realized, travel time between Los Angeles and San Francisco — which is beside wine county — will be reduced to just 35 minutes.
Musk wants to build a hyperloop rail system that would operate at a top speed of 1,200 kilometers per hour.
Ambitious as this project is, Chinese scientists are planning an ultrafast rail transportation system of their own that would run at up to 1,500 km/h.
This would make it possible to enjoy wine in the Napa Valley at midday and, for example, watch a baseball game just three hours later in New York City.
Zhang Weihua and his team at Southwest Jiaotong University in Chengdu, capital of Sichuan province, are building a high-tech tube transportation system to test methods of carrying commuters and cargo at ultrafast speeds. This will be tested at speeds of up to 1,500 km/h. The top speed is expected to be reached in April 2021.
The hyperloop idea was first proposed by Musk in 2013, but was met with a mix of enthusiasm and skepticism.
Unlike ordinary trains and tracks exposed to the atmosphere, trains operating on this system would run inside a partial vacuum. The prototype loop can raise a train above ground and enable it to run inside the tube without air resistance.
Other countries, such as France and Japan, are also speeding up their research on ultrafast trains.
"Speed has become the focus of competition," Zhang said.
Once it has been completed — in less than three years according to Zhang — all types of ultra-high-speed maglev transportation tests can be carried out, including those on high- and low-temperature superconductor maglevs.
A prototype was built to one-tenth the scale of the proposed train, he said.
While this system remains a target for the future, Zhang and his team have made significant progress recently and may even break a world speed record this year.
The research team is building a test line for a high-temperature superconductor maglev train in Chengdu.
The train, which will operate in a vacuum tube, is expected to undergo engineering tests this year, with speeds reaching 400 km/h, a world record for its type.
Technologies for the hyperloop system can be used in many industries, such as aerospace, railway transportation, new materials, next-generation engines and nuclear power generation, as well as in the military, said Sun Fuquan, a researcher at the Chinese Academy of Science and Technology for Development.
Sun said it will not be easy for manufacturers worldwide to develop a transportation system with speeds of between 1,000 km/h and 1,500 km/h. They will need to team up with many companies and research and financial institutions from China and abroad. A large number of patents in related fields will be required.
"It will feature a transport system that reduces air resistance in a low-vacuum environment, has a supersonic shape, and reduces resistance via magnetic suspension," he said.
The current record is held by Hyperloop One, a company in the United States, which logged a speed of 387 km/h in December.
China is stepping up measures to make the hyperloop system a reality, enlisting a US startup to build the superfast vacuum tube transportation system in Tongren, a city in the southwestern province of Gui-zhou.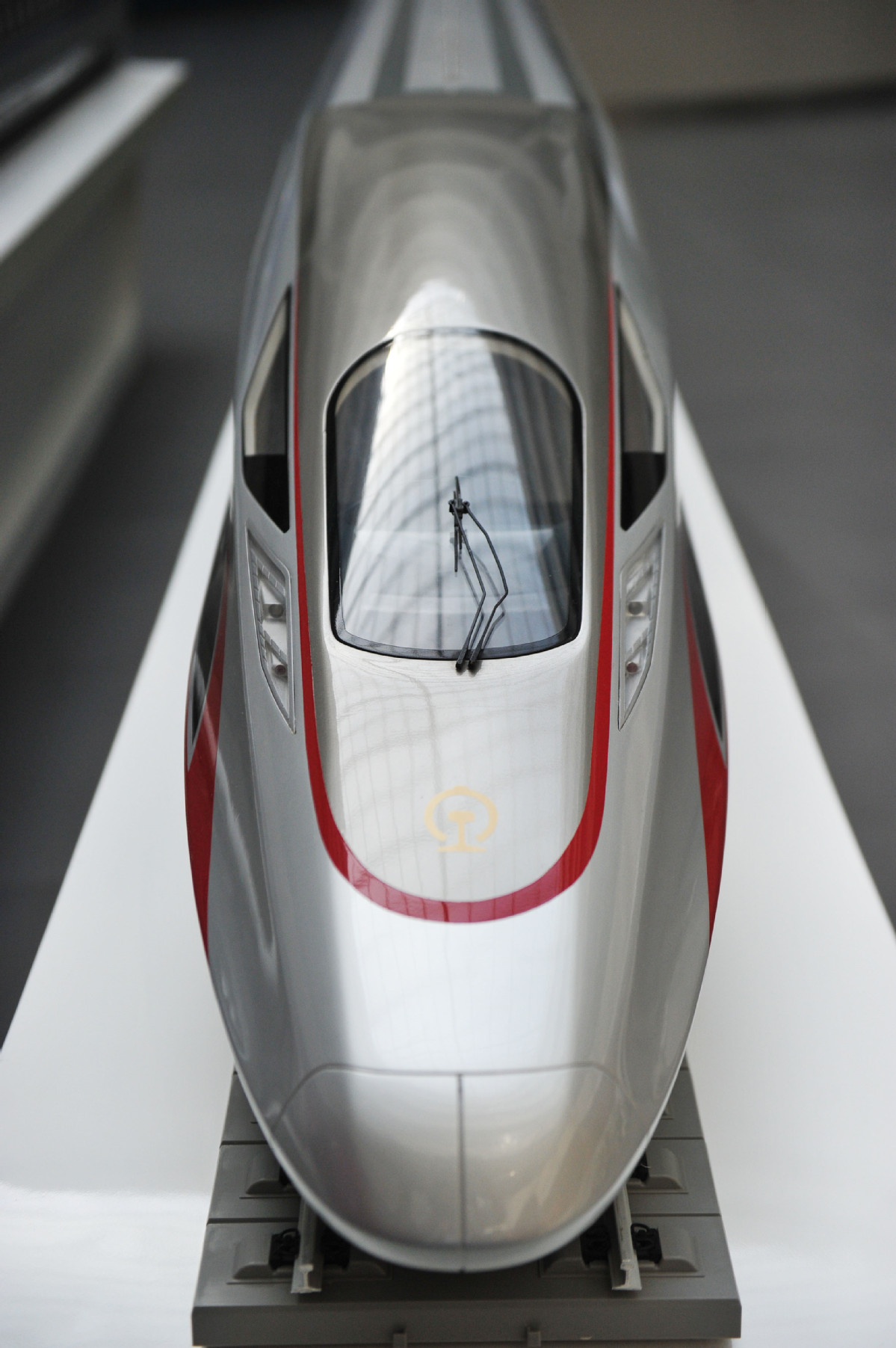 Hyperloop Transportation Technologies, a company in California working on the concept of an ultra-high-speed hyperloop, signed a deal last month to build the superfast track with Tongren Transport and Tourism Investment Group, a company controlled by the Tongren government.
The route is expected to cover an initial distance of 10 km from the city to Tongren Fenghuang Airport, with an estimated investment of 2 billion yuan ($293 million).
During the second phase, the hyperloop project will extend from the city to Mount Fanjing in Tongren, covering 50 km, a distance suitable for commercial operation. Investment is set to rise to more than 10 billion yuan.
To implement the project, HTT and the Tongren government will set up a joint venture to build the hyperloop system.
It is the first deal signed by HTT with China, and marks the company's next significant step in taking a foothold in the country, a market with substantial infrastructure spending.
HTT CEO Dirk Ahlborn said: "In response to the rapidly growing urban population, China spends more than $300 billion on infrastructure construction annually. Our cooperation with a wide range of countries has proved that the superfast tube system will be a workable plan."
He expects HTT to play a bigger role in helping China to broaden its links with the rest of the world.
Tongren has partnered with the China Railway Fifth Survey and Design Institute Group Co and China Railway Maglev Transportation Investment & Construction Co to contribute 50 percent of the financing for the project. The remaining 50 percent will be provided by HTT.
The company will provide the technology and essential equipment, while the Tongren government will help the joint venture to certify the tube, establish the project and draw up regulations for the new technology.
Chen Changxu, Party chief of Tongren, said: "The super-high-speed hyperloop will be faster and cleaner, which will reduce energy consumption. Tongren used to be a less-developed area. The development of information and transportation will improve this situation, and the superfast hyperloop will be a major change to local transportation."
Wang Mengshu, an academician at the Chinese Academy of Engineering, said it will create jobs not only for Tongren but the entire country to supply infrastructure and technical materials such as electronic components, wiring, construction machinery and pipelines for the project.
Earlier this year, HTT also signed deals to build commercial hyperloop systems in Abu Dhabi, the capital of the United Arab Emirates, and in Ukraine.
Ahlborn said, "This year, we started the commercialization of our technology with a focus on regulations, which are the biggest hurdle remaining to bringing this new mode of transportation to the world."
The concept of a super maglev train system is an attempt to change a market dominated by bullet trains running on ground-level tracks.
High-speed rail transportation has been one of the most impressive areas in which China has made progress. In recent years, the country has built the world's largest high-speed rail network and become a world leader in providing globally competitive high-speed products and services.
By the end of last year, China's high-speed rail network had reached 25,000 km, accounting for nearly two-thirds of the world's total. The nation's railway network spans 127,000 km.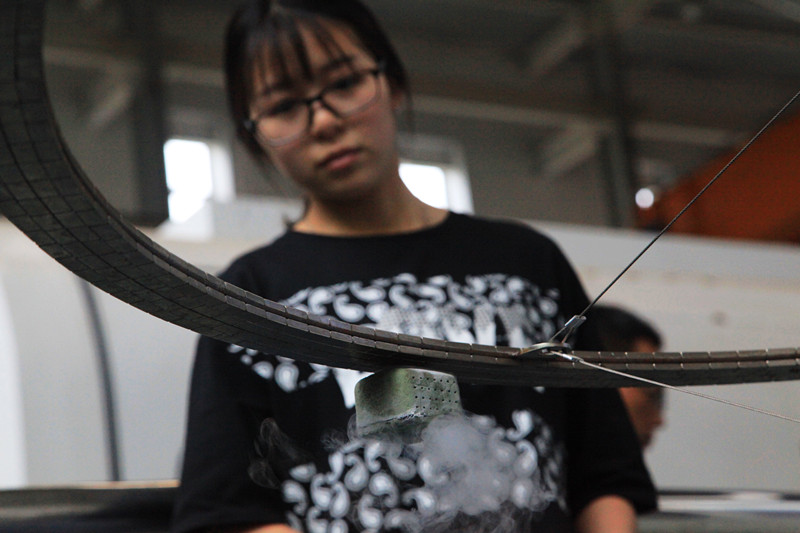 China is also looking to CRRC Qingdao Sifang Co, a wholly owned subsidiary of China Railway Rolling Stock Corp — the largest rolling stock manufacturer by asset value in the world — to develop the prototype for a high-speed maglev train that could run at speeds of 600 km/h by 2020.
If put into commercial service, the train could shorten the journey time between Beijing and Shanghai to just over two hours from four-and-a-half hours. The high-speed trains operating on this route run at speeds of up to 350 km/h.
The country is also working on high-speed trains that could reach speeds of 400 km/h for the Moscow to Kazan line in Russia. The proposed 770-km line, which is planned to be operational by 2020, would span seven regions with a total population of more than 25 million.
Ever-faster speeds are being demanded, and this is why China has joined the global race to build the superfast hyperloop system.
Experts have urged the country to put more resources into the research and development of high-speed maglev train technologies to further compete with established foreign rivals amid fierce competition for export orders.
Zhao Jian, a professor of rail transportation at Beijing Jiaotong University, said: "Even though German and Canadian train makers were previously trying to hold back China's market expansion in developing wheel technology-based high-speed trains, they have failed. Also, none of them is capable of competing with China in the field of high-speed maglev trains, judging by their research and development resources."
However, Zhao said Japan remains a strong rival in both bullet train operation and development and high-speed maglev train technologies. It plans to put its 500 km/h maglev trains into operation by 2027.
"In addition to developing the hyperloop system, China must make a breakthrough to develop maglev trains that can run at 600 km/h, to ensure it can hold a decent market share globally in the long term," Zhao said.
Japanese-made maglev trains can reach a maximum speed of 603 km/h, while those designed in Germany can travel at 505 km/h.