Chinese pavilion at CIIE highlights nation's scientific and technological developments
2018-11-19 09:38:24
Summary:If you wander into the Chinese pavilion at the Chinese International Import Expo (CIIE) you will be amazed by s
If you wander into the Chinese pavilion at the Chinese International Import Expo (CIIE) you will be amazed by some familiar models on exhibition, which catch the world's attention every time they are on display, from high speed rail to domestically-made airliners.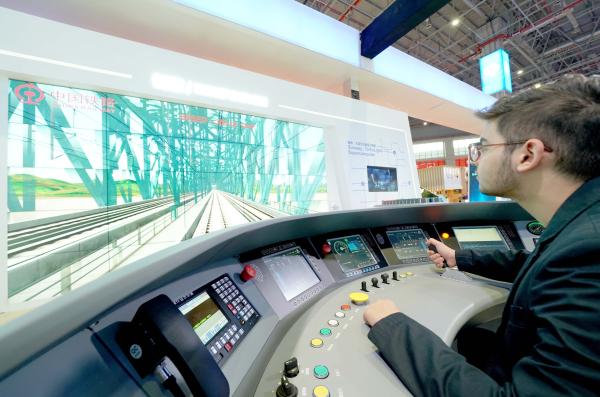 Photo via Xinhua
For example, the Fuxing train, the fastest train running on China's high-speed rail network, is the most eye-catching of them all. The train, which can travel at a top speed of 350km/h, was first deployed for the Beijing-Shanghai route in 2017.
On November 8 ,16 Fuxing trains run between the major cities of Beijing, Shanghai, and Tianjin, with tens of millions of trips accomplished.
Visitors can also have a try at driving the high speed train. China Railway created a simulation that allows people to experience the speed of the train from the driver's seat.
China Railway Express, connecting Chinese and European cities under the #BeltandRoad Initiative, is another must-see. The pavilion marks out each of the 65 routes linking 48 Chinese cities with 44 cities in 15 European countries.
Other major scientific and technological breakthroughs and milestones are also showcased. Models of the domestically-made C919 twinjet airliner, which had its maiden flight in May 2017, and the 55-km-long Hong Kong-Zhuhai-Macao Bridge (#HZMB)—the longest bridge-tunnel system in the world and which opened to traffic on Oct. 23, are both on display.