Top News Biz Updates Life China Daily Exclusive Zhanjiang Port Group opens land port in Qiandongnan
2018-01-04 15:50:06
Summary:A freight train loaded with cargo from Africa departed Yangping Station in Qiandongnan Miao and Dong autonomous prefecture for Zhanjiang Port on Dec 29, signifying the official opening of the Qiandongnan Land Port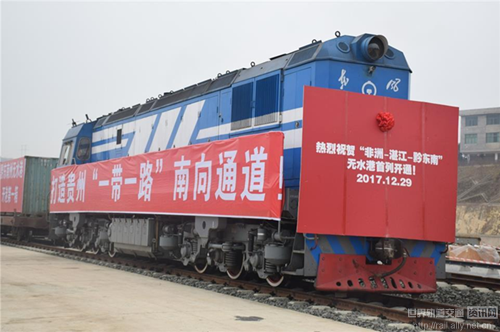 A freight train loaded with cargo from Africa departed Yangping Station in Qiandongnan Miao and Dong autonomous prefecture for Zhanjiang Port on Dec 29, signifying the official opening of the Qiandongnan Land Port.
It comes in the wake of joint efforts by Zhanjiang Port Group, the Qiandongnan Miao and Dong autonomous prefecture government and China Railway Chengdu Group, in building a land-sea combined logistics channel along the Belt & Road.
According to Liu Enhuai, president of the Zhanjiang Port Group, through the construction of the land port, Zhanjiang Port aims to provide more accessible services for customers in Southwest China while expanding its business.
Located in Yangping town of Qiandongnan, the first phase of the land port covers 94 mu (6.3 hectares). Equipped with two rail lines and support facilities, it is expected to handle 1.5 million tons of cargo annually.
The second phase will increase the cargo throughput capability of the port to 4.5 million tons when it comes into operation. The whole project entails a total investment of 350 million yuan ($53.9 million).
In addition to deploying a land port in Qiandongnan, Zhanjiang Port Group operates eight rail-sea combined transport routes across the country, which can reduce the transportation time by three to five days and lower costs by 15 percent compared with traditional transport modes.