India railway development reveals economic progress
2019-02-21 09:02:51
Summary:Piyush Goyal, India's Minister of Railways and Coal, recently posted a video online of the Vande Bharat Expre...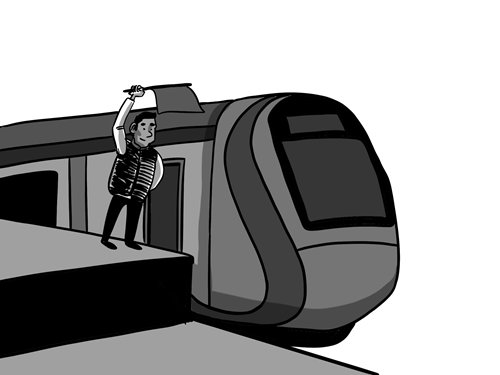 Piyush Goyal, India's Minister of Railways and Coal, recently posted a video online of the Vande Bharat Express, the country's first semi high-speed rail. However, it was later revealed the footage had been doctored so the train would appear to travel faster than normal.
Vande Bharat Express is the first high-speed rail manufactured under the "Make in India" initiative, launched by Indian Prime Minister Narendra Modi. With India's national election approaching, the debut of the express rail, meant to highlight the Modi administration, went south.
Some Chinese media reported this mix-up with amusement. The incident may have cast a shadow over the efforts and progress India has made in its railway sector.
The mocking by some Chinese reflects a gap among both countries and their media - some Chinese lack a general recognition of different cultures. India is an open society, and within their political system many government officials have come across as braggarts who accomplish very little. In contrast, Chinese culture prefers keeping a low-profile.
Objectively speaking, it's easy to see that India has made significant progress in its railway development. Learning from the Chinese, Modi has paid high attention to infrastructure construction by proposing new highways, railways, and ports.
Modi launched the diamond quadrilateral project, a high-speed rail network connecting four of the country's major cities. However, due to its level of social and economic development, India has focused more on upgrading its current railway infrastructure than developing new high-speed railways.
Last September, the Japan International Cooperation Agency signed an agreement with the Indian government to provide $810 million to the Mumbai-Ahmedabad high-speed rail. The Indian government conducted feasibility studies on routes along the new network. The project will require assistance from China, France, Spain, Japan and Germany, according to media reports.
Even though Japan has contributed a substantial amount of financing, the project is advancing slowly. It is difficult to predict now if the railway will be ready in 2023.
India's policymakers have diverged over building the high-speed rail. Many believe upgrading the current railways is a better choice. After all, before the high-speed train, even the express train in the country could hardly travel 55 kilometers an hour.
India has witnessed China's rapid railway innovation and progress. During the previous Manmohan Singh administration, India was expected to work with China's railway sector.
The two countries signed a Memorandum of Understanding and put forth an action plan to facilitate cooperation in training and heavy cargo transportation, speed increases on existing lines, railway station renovation, and even establishing a railway university, according to India's Press Information Bureau.
After years of effort, India has delivered its first high-speed passenger train under the "Make in India" banner. It is undeniable that the new express train still has some catching up to do, especially when compared to high-speed trains around the world. However, India's latest progress is remarkable. And what should also be observed is how the country's attitude has made even bigger improvements.
India has clearly learned from China by keeping an open mind and modest attitude in its railway development. Rather than pointing fingers at India, Chinese people should notice how India has changed.