Belt and Road to boost China-Austria closer ties in all areas
2019-04-26 10:42:39
Summary:The Belt and Road Initiative, or BRI, is expected to significantly expand the economic, trade and cultural cooper...
The Belt and Road Initiative, or BRI, is expected to significantly expand the economic, trade and cultural cooperation and exchange between China and Austria, according to Friedrich Stift, the Austrian ambassador to China.
"It is a very important initiative, and we are following it with great and close interest," Stift recently told China Daily website ahead of the second Belt and Road Forum for International Cooperation.
The initiative aims to create greater trade, infrastructure and people-to-people links between Asia, Europe, Africa and beyond by reviving and expanding the ancient Silk Road routes. The modern version comprises an overland Silk Road Economic Belt and a 21st Century Maritime Silk Road.
"I think it's very important to strengthen and build infrastructure in Central Asia because it links Europe and Austria, and brings us closer to China," Stift said.
"A very good infrastructure helps everything. It helps build up a better economy, get people-to-people contacts closer, carry out closer cultural and economic cooperation," Friedrich Stift said, adding he is very optimistic about the positive outcome of the second Belt and Road Forum.
China is currently Austria's second largest trading partner outside the European Union, with continuous steady growth in bilateral trade volume in recent years.
In April 2018, China and Austria agreed to establish a Sino-Austrian strategic partnership and signed 11 intergovernmental cooperation documents in tech innovation and Belt and Road construction, creating more opportunities for further cultural and economic links between the two countries.
Following that, an economic and trade cooperation promotion conference between North China's Shanxi province and Austria took place in Vienna. Representatives from industrial parks, companies and economic organizations from the two sides promoted their projects, competitive industries and respective business environments at the conference.
Shanxi Chamber of International Commerce signed a partnership agreement with the Austrian Society for Promotion of Friendly and Cultural Relations with China. Shanxi Guochang New Energy and Polytechnik Group, an Austrian supplier for biomass combustion plants, as well as two law firms also established partnership agreements at the event.
To better connect the two by air, Hainan Airlines Group opened a direct flight from Shenzhen to Vienna last year.
The Shenzhen-Vienna route will promote the cultural and economic cooperation of the two countries, and was opened in response to the Belt and Road Initiative, said Chen Feng, chairman of Hainan Airlines.
Hainan Airlines also jointly funded a hospital with Austria's Vamed healthcare company in Hainan province last year.
Austrian President Alexander van der Bellen said: "Since the establishment of diplomatic relations between Austria and China in 1971, cooperation has been developed in many fields such as tourism, economy and culture. I hope the Sino-Austrian joint venture hospital will bring benefit to people in Hainan. It will also attract more tourism and tie the two countries closer after the opening of Shenzhen-Vienna routes."
In November 2018, a group of Austrian companies debuted at the China International Import Expo in Shanghai, an important part of China's efforts in its new round of opening-up.
Christoph Matznetter, vice-president of the Austrian Federal Economic Chamber said the event worked as a special opportunity for Austrian companies to showcase their products and services directly to potential buyers in China. He said the event would help produce a magnet effect and drive more Austrian companies into the Chinese market.
China Daily - Xinhua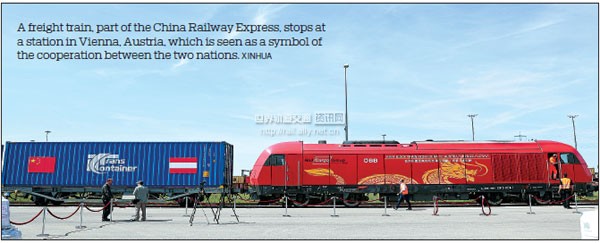 A freight train, part of the China Railway Express, stops at a station in Vienna, Austria, which is seen as a symbol of the cooperation between the two nations. Xinhua