China Railway Express in Chengdu boosts regional economy
2019-05-22 09:30:30
Summary:Countries and regions across the world have strengthened cooperation with the city, thanks to the Belt and Road ...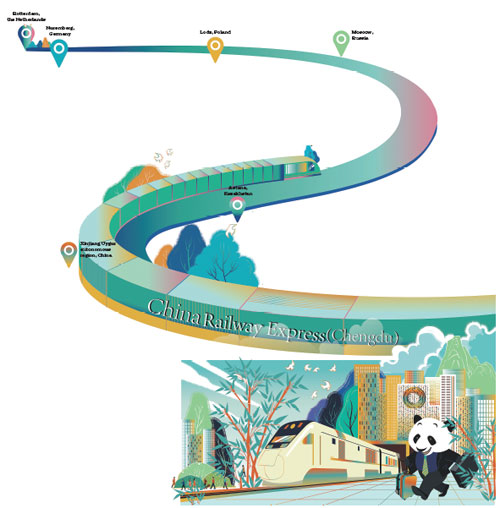 Countries and regions across the world have strengthened cooperation with the city, thanks to the Belt and Road Initiative
Two thousand years ago, the ancient Silk Road opened the door for Chengdu to connect with the rest of the world. Now, fueled by the Belt and Road Initiative, the city again stands at the forefront of opening-up, developing its industries, creating value and making innovations on the global stage.
The first freight train from Luxembourg to Chengdu departed on April 4. The train, branded under the "China Railway Express" banner, passed through Germany, Poland, Belarus, Russia and Kazakhstan, and then entered China through the Alashankou port in the Xinjiang Uygur autonomous region. The travel time, from start to finish, was 15 days.
By now, China Railway Express (Chengdu) has linked 25 overseas cities and 14 Chinese cities. It has seven international railway channels and five international rail-sea combined channels to further open up the city.
Six years ago, when the initiative was put forward, Chengdu opened the first direct freight railway to reach Lodz in Poland, bridging a gap to link to Europe. Through the logistics channel, the products and services from Chengdu were exported to meet the demands of countries and regions involved in the initiative. It became an important platform for Chinese companies to go global and for foreign capital to be introduced.
For example, China Railway Express-Skyworth Express, with 41 full containers of televisions and accessories, left Chengdu International Railway Port to reach Europe in March.
The express provided a more convenient channel for Shenzhen-based television manufacturer Skyworth Group to enter overseas markets.
Wang Zhiguo, chairman and president of Shenzhen Skyworth-RGB Electronic, a subsidiary of Skyworth Group, said the express helped reduce logistics time by more than 66 percent.
Enticed by the growing influence of China Railway Express on China-Europe trade, more companies have signed agreements with Chengdu to conduct import-export logistics and production capacity cooperation with Europe. They've also reached cooperative intention with local companies in bonded processing and logistics.
That includes electronics giant TCL Corp, Lenovo Group, the world's largest manufacturer of personal computers, and AVIC Chengdu Aircraft Industrial Co Ltd.
The production of Skyworth, TCL and electronics company Dell in Chengdu also saw significant growth.
Big logistics companies, like Alibaba's Cainiao Logistics, Hema Fresh and Hong Kong-based Sun Wah Group, have also invested in Chengdu International Railway Port. The number of major logistics and trade projects in the port has reached 84, with a total investment of 55 billion yuan ($8.2 billion).
Thanks to Chengdu's geographical advantages with regard to the Belt and Road Initiative, local companies have linked to global markets more frequently. Companies that used to lack the confidence to go global began taking the step. Companies that have had export business for years upgraded their product structure and expanded their business to production capacity cooperation and technological export.
Chengdu Xinzhu Road and Bridge Machinery is a prime example. The company was founded as an infrastructure company, and its business has expanded to include new energy and railway traffic. In September 2018, the company's production base at the China-Belarus Industrial Park in Minsk was launched to produce super capacitors used in buses. They're the first high-tech manufacturer to begin operation in the park. Before that, the company mainly exported parts used in roads and bridges' construction.
It's Xinzhu's first overseas production base, marking the first step of its overseas development.
Du Xiaofeng, vice-president of the company, said it aims to serve members of the Commonwealth of Independent States, the Eurasian Economic Union, and other Middle East and European markets. He said the company will adopt localized management and hire a large number of Belarusian employees.
The company also introduced the core technology for medium- and low-speed maglev traffic system from German company Max Bogl Group and put it into local production. Its production line is expected to be completed in June.
"Our overseas outreach has gradually transformed from technological and academic communications to capacity cooperation," said Hu Jishi, senior counselor and technical director of the company.
More BRI-related countries and companies have found business potential in Chengdu. The Sino-German small and medium-sized enterprises cooperative park, Sino-French ecological park, Sino-Italian cultural innovation park, Sino-South Korean innovation and entrepreneurship park, Chengdu-Israel technological innovation center, the Chinese innovation center of France-based Sophia Antipolis Science and Technology Park and other industrial parks have all settled in the city.
As a comprehensive global service platform, the Business and Innovation Centre for China-Europe Cooperation in Chengdu has attracted more than 40 projects, including the representative offices of Bavaria, Germany, the Chinese headquarters of Norwegian company Opera, the French internet of things company Sigfox, the global innovation center of Amazon, the Germany visa application center, and the sustainable development and innovation demonstration project of the United Nations Development Programme.
Chengdu attracted foreign direct investment of $2.69 billion in 2018, up 44.1 percent year-over-year, according to data from the Ministry of Commerce. The actual use of foreign investment grew 17.5 percent to reach $7.63 billion last year.
Chengdu has established economic relations with 228 countries and regions. At the end of 2018, the city operated 114 international or regional flights, had 17 consulates and 285 Fortune Global 500 companies, ranking it first in central and western China.