Engine of South America's rail networks
2019-03-11 10:36:30
Summary:CRRC exports rolling stock, technologies, services and expertise to upgrade Belt and Road economiesChina Railway Ro...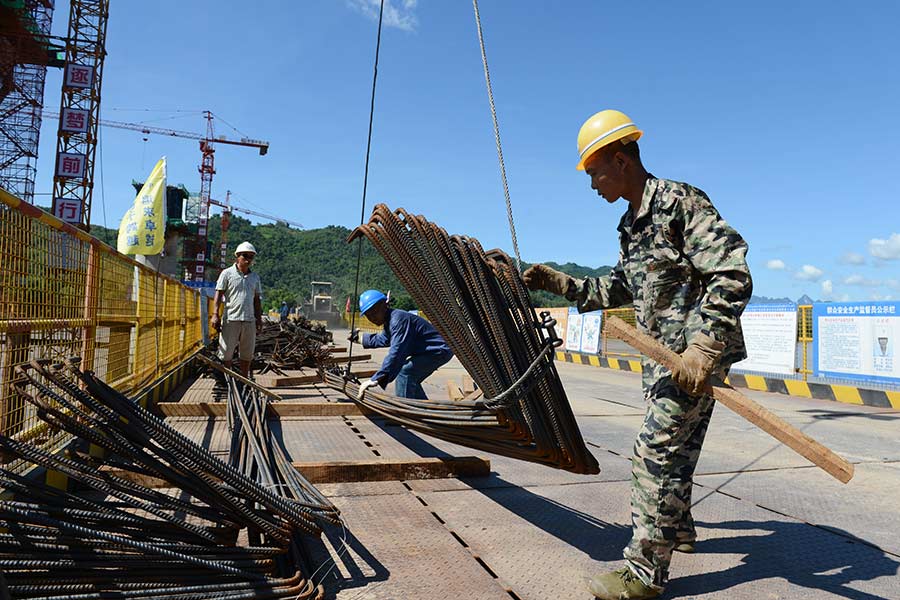 CRRC exports rolling stock, technologies, services and expertise to upgrade Belt and Road economies
China Railway Rolling Stock Corp or CRRC, the world's largest railway vehicle manufacturer by sales revenue, is riding an export boom of late.
It exported its electric multiple units or EMUs to Brazil in 2012. This was followed by orders for EMUs and freight trains to Chile last year. The company will work with Argentina to revamp the South American country's aging rail network, including both passenger and cargo trains.
It is now eager to enhance its ability to offer a clutch of railway services as many countries have surging demand to either upgrade or expand their railroad networks.
Countries are acutely aware that modern railway networks can support trade, investment and tourism. This is particularly true for countries in South America, Central Asia, Southeast Asia and Africa that are participating in the Belt and Road Initiative, according to Lou Qiliang, CRRC's vice-president.
"Because our global supply and value chains are well established, it is fairly critical for us to transform the operational mode from simply producing and shipping rolling stock to other countries to deepening the degree of international cooperation," said Lou.
His remarks came after China and Argentina enhanced their relations to boost trade, investment, infrastructure and development of services-related facilities.
More Chinese companies such as China Railway Construction Corp and China National Machinery Industry Corp have already expanded their market presence in Argentina in the second half of 2018.
To upgrade the public transportation system in Buenos Aires, the country's capital, and modernize the city's infrastructure, Argentina's Ministry of Transport signed a purchase deal for 200 rail cars and related parts from CRRC in April last year. It was the third carriage order from the ministry. The deal is worth about 2 billion yuan ($299 million).
The 200 new rail cars have been shipped already. Once they arrive at their destination, they will replace the aging Japan-made cars currently in use, according to Argentine Transport Minister Guillermo Dietrich.
The new trains will expand passenger capacity and introduce new features, such as allowing passengers to move from one car to another for better distribution of ridership.
As China currently is supplying financing, rolling stock and technologies to Argentina, Guillermo Fiad, president of Argentine Train Infrastructure, Argentina's national rail administration agency, believes this bilateral cooperation will lead to stronger ties and "new development opportunities".
The rail project currently centers on renovating more than 1,700 km of the Belgrano Cargas cargo line that links the port of Rosario, the country's main export hub, with Argentina's northwest breadbasket through the provinces of Santa Fe, Chaco, Santiago del Estero, Salta, Jujuy and Tucuman. However, the overall objective is more ambitious.
"The goal is to renovate 10,000 km of railway track. We hope the Chinese companies participate and work with us. We have high expectations of being able to achieve that in the next few years," said Fiad.
In July 2018, following renovation work, Belgrano Cargas transported 180,722 metric tons of cargo, a 20-year record, according to the Argentine Ministry of Transport.
China is contributing to the upgrade of other rail lines too, including San Martin and General Urquiza Cargas, both key segments of Argentina's national railway network.
As part of the bilateral cooperation, Argentina is looking to acquire 107 Chinese-made locomotives for the three lines. To date, 97 locomotives have arrived at the port of Buenos Aires, along with 3,500 rail cars made by CRRC.
"China's support, via its companies and credit lines, led to an agreement between the two countries. It has been one of the main drivers of all this transformation," said Fiad.
Argentina's rail infrastructure "received no investment of any kind in over 50 years", he said, stressing the significance of China's game-changing support.
"The project has so far renovated 550 km of railroads across five provinces," he said.
At least 70 percent of the financing needed to renovate the railroads has come from China, and Argentina is hoping it will "continue to increase" even more, he said.
By 2019, Argentina's government aims to double the Belgrano Cargas line's speed from 15 km per hour to 30 km/h.
With China's help, Argentina is also upgrading passenger rail lines that connect Buenos Aires with outlying areas. The Roca, Sarmiento and Mitre lines, which serve commuters in the south, west and north, respectively, have been improved in the past five years with new rail cars and other equipment.
In addition, Chinese technicians from Shandong-based CRRC Qingdao Sifang Co are offering training in Llavallol, some 33 km south of Buenos Aires, to bring their Argentine counterparts up to speed on the maintenance of the new trains equipped with computerized safety systems and other high-tech features.
Cooperation between the two countries in the railway sector is not only helping bolster infrastructure in Argentina but also improving transport, quality of life and trade, said Luo Renjian, a researcher at the Institute of Transportation Research at the National Development and Reform Commission.
"As a large number of countries still rely on trucks and coaches to transport goods and people, the demand for modern railroads will remain attractive in many parts of the world," he said.
Buenos Aires, the Argentine capital, boasts a population of more than 10 million. There are more than 20 satellite cities around the main city, mainly interconnected by old urban railway lines, according to the country's Ministry of Transport.
Luo said the upgrades are part of a vision to create a "one-hour metropolitan area" in Greater Buenos Aires, where faster trains could serve outer suburbs and satellite cities within an hour of big city centers.