China-built railway line to boost Sri Lanka economy
2019-04-10 09:59:36
Summary:Beliatta railway station Photo: XinhuaThe opening of the first railway project built by a Chinese company in Sri...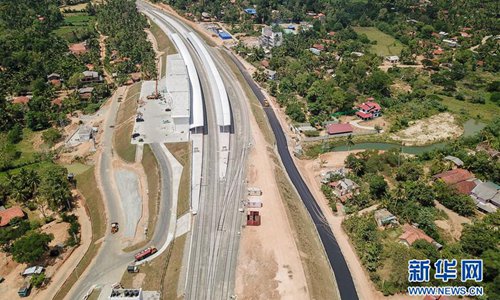 Beliatta railway station Photo: Xinhua
The opening of the first railway project built by a Chinese company in Sri Lanka will boost development, said China's Foreign Ministry, which has vowed to strengthen cooperation with the island nation under the
Belt and Road
Initiative (BRI).
A 26.75-kilometer railroad between Matara and Beliatta in the southern part of Sri Lanka was inaugurated on Monday with a top speed of 120 kilometers per hour, by far the fastest in Sri Lanka.
Construction of the railway was carried out by the China Railway Fifth Survey and Design Institute Group Co. Ltd. (CR5DI). It is the first stage of the rail project, which will be extended east to Hambantota Port. It will help Sri Lanka integrate its land, sea, and air transportation networks, the Xinhua News Agency reported.
Chinese Foreign Ministry spokesperson Lu Kang said Tuesday at a routine press conference that the official opening of the railway line will facilitate transportation in southern Sri Lanka and promote local economic and social development.
China is ready to continue to strengthen practical cooperation with Sri Lanka under the BRI framework and deliver tangible results to the benefit of the Sri Lankan people, Lu said.
Liu Xiaoxue, an associate research fellow at the Chinese Academy of Social Sciences' National Institute of International Strategy, told the Global Times on Tuesday that the completion of the railroad section marks important progress in Sri Lanka's infrastructure ahead of the second Belt and Road Forum for International Cooperation which will be held in Beijing this month.
"The railway will bring new impetus for development once the project is completed and reaches Hambantota Port," Liu said. A combination of a railway, a sea port on the Indian Ocean and an airport nearby will effectively boost the efficiency of goods flow for Hambantota Port, he noted.
"The project provides a critical connect to deep south of Sri Lanka and is likely to become a major link in boosting local economy including providing some promise for Hambantota Port and Special Economic Zone," Swaran Singh, senior fellow with Institute for National Security Studies Sri Lanka, told the Global Times on Tuesday.
"Also, this project is likely to become commercially viable and promote trade and tourism," said Singh.