Chengdu on the road to becoming global supply hub
2019-04-29 08:54:22
Summary:Streamlined customs and strong transport network favor the southwestern China cityChengdu, capital of Sichuan provin...
Streamlined customs and strong transport network favor the southwestern China city
Chengdu, capital of Sichuan province, is developing into a globally influential supply hub, by leveraging the Belt and Road Initiative, expanding its transport network and improving its logistics capacity.
On April 15, a batch of pharmaceutical company Allergan's products worth 100 million yuan ($14.88 million) passed through customs in the metropolis in western China, some via Chengdu-Europe freight rail and others by air, marking the first time that medical products had arrived in the region through coordinated shipment, according to local officials.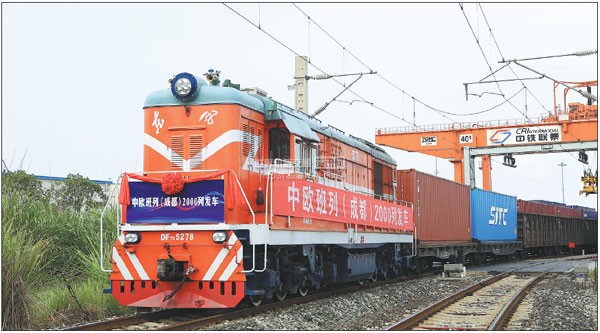 The China-Europe freight train connects 14 Chinese and 25 overseas cities, greatly expanding Chengdu's trade network. Provided to China Daily
They said it also showcased the city's new medical supply chain service center, which was unveiled on the same day and is capable of serving companies around the globe.
Wang Wei, president of Allergan China, said the company chose Chengdu as the entry point for its products because of its geographical position, which easily connects with other cities in southwest China.
However, southwest China is just a tiny part of the reach of Chengdu's ever-expanding transport network.
Chengdu has built an express delivery network to cover major economies around the globe, said an official at the city's ports and logistics office.
So far it has 116 flight routes to cities overseas, and an airport cargo throughput reaching 665,000 metric tons in 2018.
Its freight train route to Europe connects 14 Chinese and 25 overseas cities, shipping 727,000 standard containers last year.
Chengdu is also stepping up its efforts to improve its logistics and other services to build a first-class business environment.
A senior customs official in the city said they will cut the time needed for examination and approval, among other things.
They are also facilitating local companies' forays into the markets involved in the BRI.
The local customs staff members impressed Wang, who called their services efficient, professional and convenient when they handled Allergan's medical products.
On the same day Allergan's products cleared customs, the company also inked a deal with Chengdu Hi-Tech Industrial Development Zone, promising to increase the pace of it introducing globally leading products into China.
Allergan is not alone. Sinopharm Group on the same day inked an agreement with the development zone to build a cold-chain storage center in Chengdu's Tianfu bio-town. The storage center is expected to enhance local efforts in setting up a cold chain logistics system for bio-medical products.
The bio-town is currently home to 113 projects with a combined investment of more than 100 billion yuan. It has introduced a large number of talented professionals, including four teams that have Nobel laureates as their members and two teams with members from the Chinese Academy of Sciences and the Chinese Academy of Engineering.
Chen Wei, a Shanghai-based bio-medicine expert, said Chengdu can make the most of the bio-town and build itself into a hub in western China or even of the whole country for global pharmaceutical companies and third-party logistics companies.
Chen said Chengdu is now a top 10 city in terms of medical imports and exports. "Thanks to the Chengdu-Europe train, it can reach markets with a combined population of 380 million people, a favorable position for its ambition in medicine and cold chain logistics."
Benefiting industrial firms
The transcontinental train benefits not just pharmaceutical companies but those in other industries as well.
Dell, one of the world's leading computer makers, was one of the earliest companies to use the freight train to transport its products.
In the year the train started its services, Dell established a global operation center in Chengdu and later built a manufacturing plant in the city, which makes products that are sold in China, Europe and the United States.
Zhang Yaohua, a senior executive at Dell, said the train was one of the most important reasons that the company chose Chengdu as the location of its global operation center.
He explained that Dell takes pride in its zero-inventory mode, which means it does not assemble computers before any orders are received, and this requires a very good supply chain.
Zhang said the Chengdu-Europe freight train has slashed the time needed for its products to be shipped to European markets. Thanks to the train, the Chengdu plant has now become one of Dell's most efficient manufacturing facilities in the world.