Track in place for smart high-speed rail serving 2022 Winter Olympics
2019-06-18 09:30:51
Summary:Track laying for the Beijing-Zhangjiakou high-speed railway, an essential mode of transportation for the Beijing 20...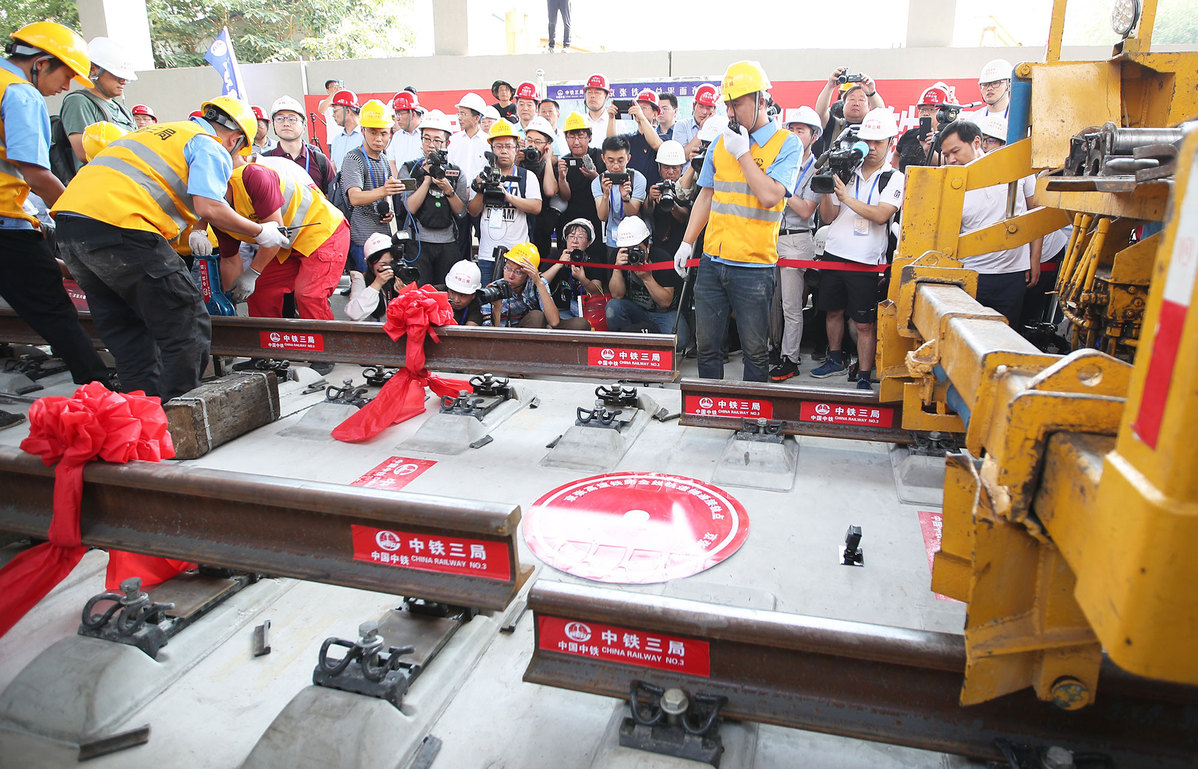 Track laying for the Beijing-Zhangjiakou high-speed railway, an essential mode of transportation for the Beijing 2022 Winter Olympic Games, was completed on Wednesday.
The 174-kilometer railway, which is scheduled to go into operation by the end of the year, will shorten the travel time from the current three hours between the two cities to less than one hour, according to China Railway Corp.
Test runs begin in September.
Its completion has significant meaning for enhancing the integrated development of Beijing, Tianjin and Hebei province, as well as connecting the western region of the country.
Ning Bin, an academician of the Chinese Academy of Engineering and professor at Beijing Jiaotong University, said at a transportation forum on Tuesday that autopilot technology will be used in the operation of the Beijing-Zhangjiakou high-speed railway.
"The technology has been tested on the Beijing-Shenyang high-speed rail," he said. "The top-layer design is important for building the intelligent Beijing-Tianjin-Hebei transportation system."
"Cloud computing and big data will be adopted by the system to accelerate the development of transportation in the area."
The Beijing-Zhangjiakou high-speed railway will have the world's first automatically driven trains that run at speeds of up to 350 kilometers per hour.
Huang Jianchao, a deputy general manager of China Railway No 3 Engineering Group, which contracted one section of the railway, said inspections by robots increased the efficiency and accuracy of the project.
According to the authority, a variety of intelligent robots will also be used at high-speed rail stations to guide passengers and help them carry their baggage.
By using the Beidou Navigation Satellite System and automatic operating system, the train can automatically start, run between stations, adjust its timing according to the schedule, accurately stop at a station, and open and close its doors, according to the authority.
The line will also connect with the Zhangjiakou-Hohhot high-speed railway, cutting travel time from Beijing to Hohhot, Inner Mongolia autonomous region, to three hours, down from nine.
Ma Kanyan, president of Beijing-Zhangjiakou Intercity Co, said the lines connecting Hohhot to Zhangjiakou, and Datong in Shanxi province to Zhangjiakou, will be opened later this year and will be beneficial to tourism, urbanization and local economic growth along the lines.