Rail traffic peaks as millions return from holiday trips
2018-10-08 09:17:39
Summary:Passengers check in to board trains at Hefei South Railway Station in Hefei, East China's Anhui province, Oct...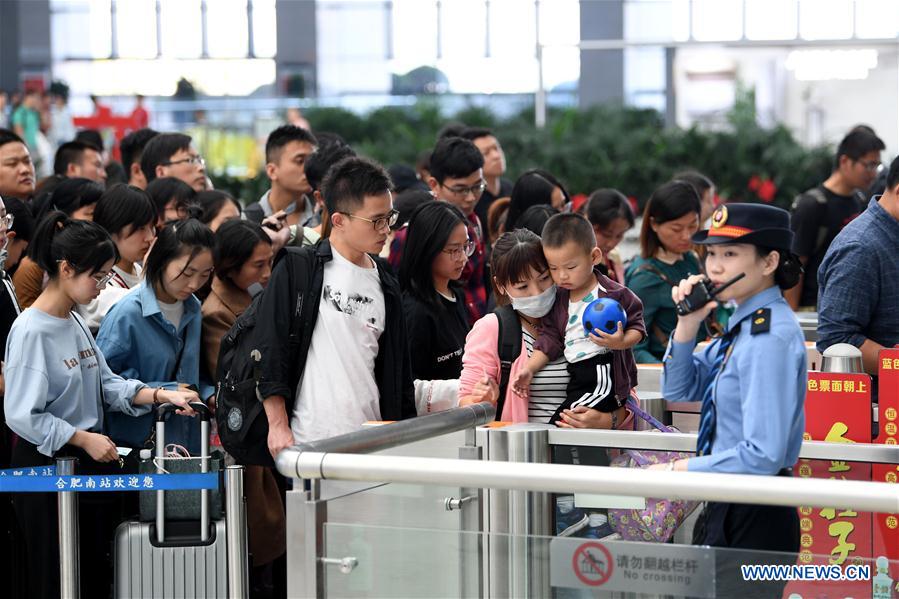 China's railway traffic reached its peak on Sunday, the last day of the weeklong National Day holiday, with an estimated daily passenger flow of 15.2 million, China Railway Corp said.
Domestic railways served 13.8 million passengers on Saturday, a 1.4 million year-on-year increase, with a growth rate of 11.5 percent, according to the company.
Rail authorities arranged 814 extra train services nationwide to handle the rush of people returning home and back to work, the company said.
In Beijing, 33 extra trains were in service from the capital's three main stations to meet the demand of an estimated 1.32 million outbound passengers on Sunday, according to China Railway Beijing Group Co.
Meanwhile, 580,000 people were expected to arrive in Beijing on Sunday. More than 11 million left the capital by train in the nine days up to and including Sunday, up by 7.2 percent year-on-year, according to the company.
China's high-speed rail system has grown to 25,000 kilometers, accounting for more than 60 percent of the world's total, according to the National Bureau of Statistics.
Deng Lingyu, who took a four-hour train trip back to Shanghai from his hometown of Nanping, Fujian province, where he visited for a holiday family reunion, said, "I often take trains, and I usually book early to get a seat during holiday rush."
"The high-speed rail is on-time and fast, with clean, comfortable carriages and affordable prices. I can enjoy the country view through the train window and get back into a working frame of mind," he said.
The high-speed rail network expanded to Hong Kong in late September, linking it with 44 stations in 38 mainland cities, a service that attracted many during the seven-day holiday.
Shi Wenqi, of Xiamen, Fujian province, traveled to Hong Kong with her family during the holiday, "The permit check is simple. It takes only about four hours to get there, making it more convenient to get away for a short vacation."