Construction continues on China-Laos railway
2019-01-05 09:15:39
Summary:Song Wei, head of a small village near the major bridges crossing the Mekong River along the railway, said inco...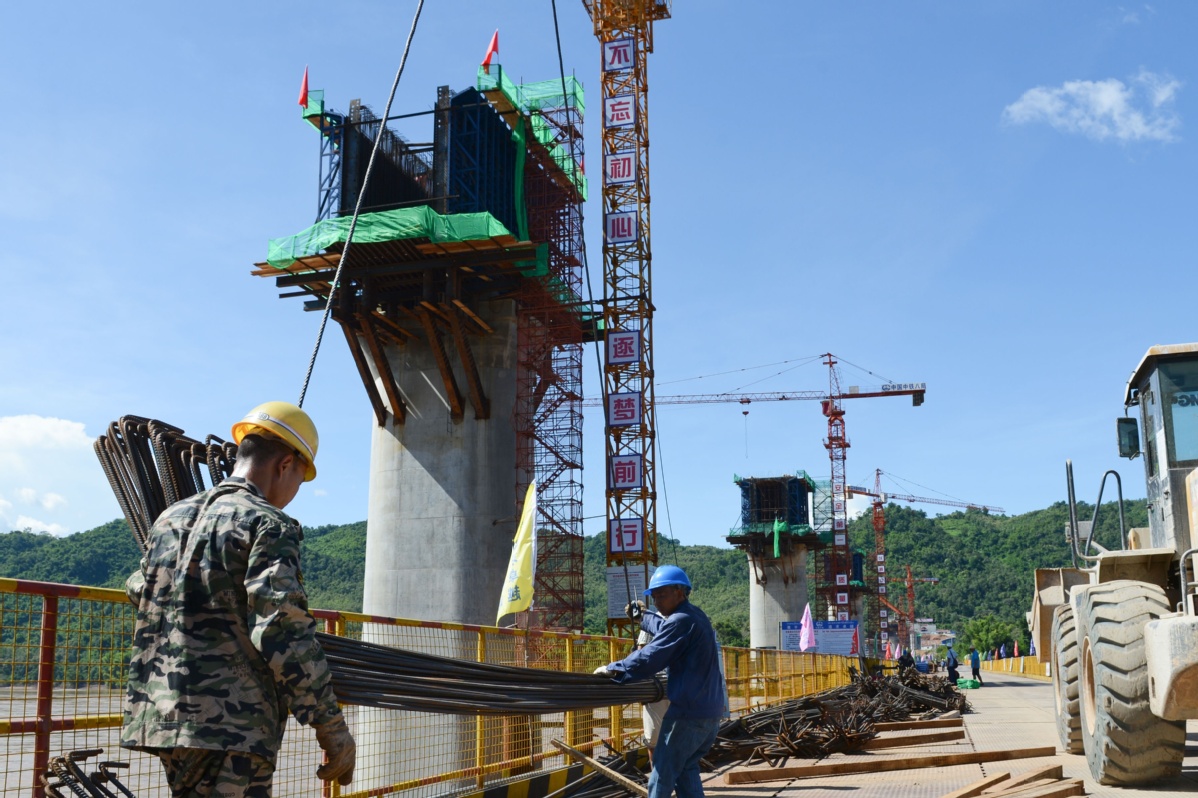 Song Wei, head of a small village near the major bridges crossing the Mekong River along the railway, said incomes have been on the rise since construction began.Construction of the China-Laos railway linking Vientiane, capital of Laos, and Southwest China's Yunnan province, has improved the lives of Lao people along the railway.
"After the China Railway No.8 Engineering Group came, they helped us build roads and hired villagers to work on the construction site," he said. Song himself has opened a restaurant to serve construction workers and passersby.
The villagers used to make a living through agricultural planting and river shipping, with an annual per capita income of about $200.
Constructors built a pioneer road of more than 100 kilometers, linking the village to Luang Prabang, a city in Laos. Some villagers have bought motorcycles or small trucks since the road was built, Song said.
Song is planning to open a resort, given that more tourists are expected to visit after the railway opens.
The China-Laos railway measures 414 kilometers in length, and is considered a key connectivity project in the Belt and Road Initiative.
The operating speed of trains on the route is designed to be 160 kilometers per hour. The railway is expected to be fully operational in December 2021.
"When the railway opens, I will take the first train to visit relatives and friends in Vientiane with my family," Song said.
Xi Shao, a 30-year-old interpreter working at the construction site by the Mekong, said many of his friends and relatives have asked him about the railway, and that they want to visit China after the railway opens.
Xi studied Chinese in Yunnan province for five years before he returned to Laos in 2012.
The condition of public transport in many places in Laos requires improvement. The most common means of transportation is a passenger tricycle, said Xi. "It would be the first time for me to take a train," he said of the completion of the project.
Mu, a 54-year-old villager who lives on a peninsula in the middle of the Mekong, said his dream is to go outside of the peninsula and take a look at Vientiane by train.
His village was located in a forest, with no road linking to the outside. He had never walked out of the forest until constructors from China Railway No.8 Engineering Group came and built a pioneer road in the forest.
After the China-Laos railway comes into service, the journey from Mohan in Yunnan province to Vientiane will take three hours, while currently it takes about 16 hours by car.