Chinese-built railways transform eastern Africa
2019-03-11 10:41:09
Summary:Employees of Tanzania-Zambia Railway pose for photographs in Dar es Salaam, the largest city in Tanzania.The Chine...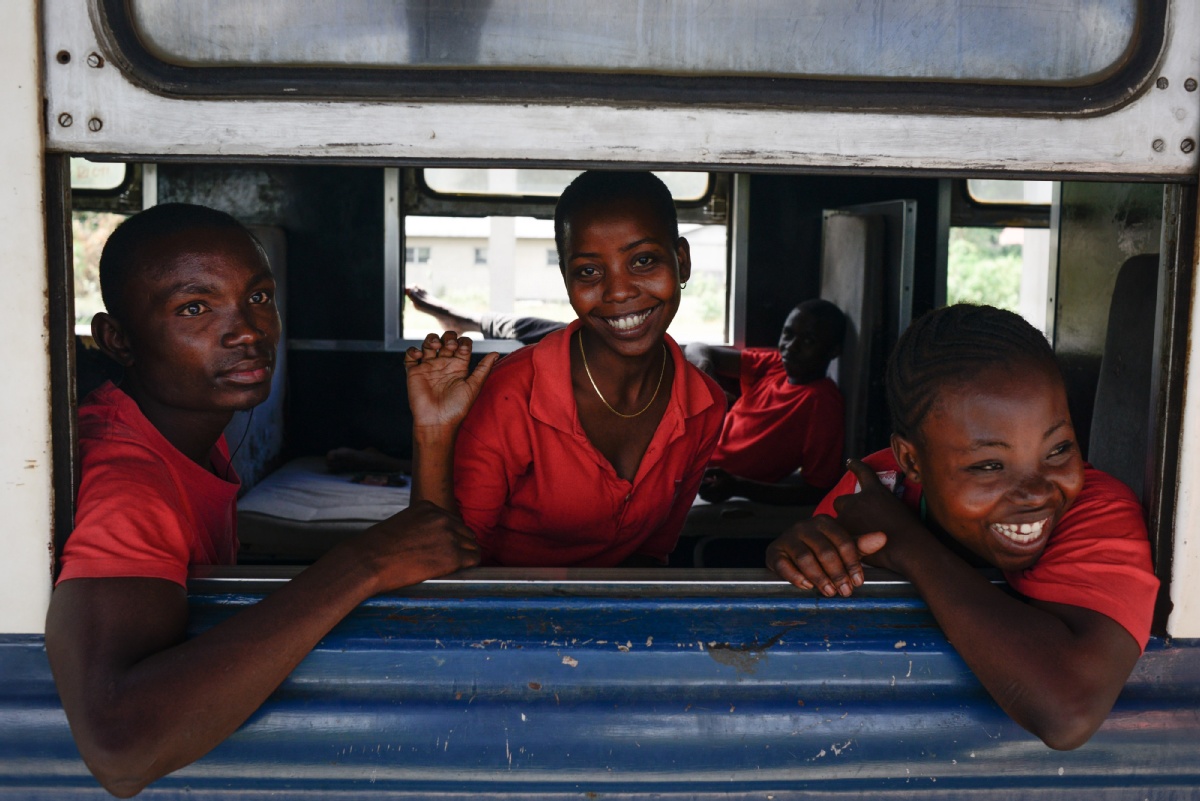 The Chinese-built Tanzania-Zambia Railway or TaZaRa started operations in 1976 and has become an economic catalyst for eastern and southern African nations, which also turns into a symbol of friendship between the peoples of China and Africa.
More than 40 years on, the China-funded Mombasa-Nairobi Standard Gauge Railway or SGR is serving as a new engine of Kenya's economic growth and makes the whole eastern African region more dynamic.
The two railways not only transformed people's lives, but also witnessed the development of China-Africa cooperation.
Benedict Henry Mkanyago, a 69-year-old Tanzanian who retired from TaZaRa in 2002, has witnessed changes brought by the railway, for the country and also for himself.
Mkanyago was born in the region of Mbeya in southwestern Tanzania. Before TaZaRa passed through, the landlocked town was impoverished and poorly accessible.
However, upon the completion of TaZaRa, the small town began to attract farming migrants and entrepreneurs and became a regional business hub in a few years. Mbeya City is now a growing metropolis and business center for Tanzania's southern regions and the neighboring countries of Malawi and Zambia.
"The railway also changed my life," said Mkanyago, who joined the TaZaRa construction team in 1970 in his early 20s, where he made friends with his Chinese counterparts and got trained in different positions. Benefiting from his rich working experience, Mkanyago was later promoted to chief of the Mbeya station.
According to official statistics, TaZaRa has transported more than 30 million tons of cargo and more than 40 million passengers since operation began.
Former Tanzanian minister of Communication and Transport Mark Mwandosya said: "Those of us who are fortunate enough to have witnessed the construction of TaZaRa will forever be grateful to China."
In April last year, Tanzania's Minister of Foreign Affairs Augustine Mahiga said the construction of TaZaRa formed a solid foundation of friendship and cooperation between Tanzania and China.
He made the remarks at a commemoration event to salute the loss of more than 60 Chinese workers and technicians who died during the construction of TaZaRa.
TaZaRa was constructed as a turnkey project between 1970 and 1975 through an interest-free loan from China, with commercial operations starting in July 1976, covering 1,860 km from Dar es Salaam in Tanzania to New Kapiri Mposhi in Zambia.
Kenya's SGR launched operation in May 2017, becoming the newest addition to the list of Chinese-built railways in Africa.
The 480-km railway cuts the journey from Kenya's capital to the Mombasa Port, the biggest port in East Africa, from 12 hours to just over four hours.
While the railway brings about much-awaited convenience and efficiency, it also succeeds in accommodating wildlife movement needs, thus causing minimal interference to animals.
The China-funded modern railway is estimated to have boosted the African country's GDP by 1.5 percentage point and has provided 46,000 jobs to locals. About 300 domestic enterprises were subcontracted during its construction, according to official figures.
Raphael Tuju, secretary-general of the ruling Jubilee Party, said that Kenya and other African countries regard China as a strategic partner in their quest to boost trade and infrastructure development.
"If you ask any Kenyan about China, the first thing that crosses their mind is the standard gauge railway linking Mombasa and Nairobi, and Guangzhou, where Kenyans go to buy clothes and other items," Tuju said.
Kenya's budding entrepreneurs agreed that the SGR has not only promoted China's image in the country but also been instrumental in transforming regional commerce.
Shadrack Kimeu, a 30-year-old owner of a hardware shop, said his revenue streams have expanded thanks to faster, cheaper and more efficient means of transportation for construction materials guaranteed by the SGR.
Lilian Awinja, executive director of the East African Business Council, said traders from Kenya, Uganda, South Sudan and northern Tanzania are now able to import and export goods without a hitch, thanks to the SGR.
"The SGR has reduced the travel time for imports and exports out of the East African region," said Awinja at a recent business roundtable in Nairobi.
The SGR has improved logistics while reducing the cost of transporting bulk goods in the region, she said.
The massive infrastructure project, which was implemented by China Road and Bridge Corporation, affiliated with China Communications Construction Company, is also deemed an early result of the China-proposed Belt and Road Initiative.
The BRI aims to build trade and infrastructure networks connecting Asia with Europe and Africa along the ancient Silk Road routes.
Gerishon Ikiara, an international economics lecturer at the University of Nairobi, said the modern commuter and cargo trains will promote growth, prosperity and cohesion in the larger eastern African region.